Amanda Boulos "Pouring Horizons"
August 12 – September 2, 2017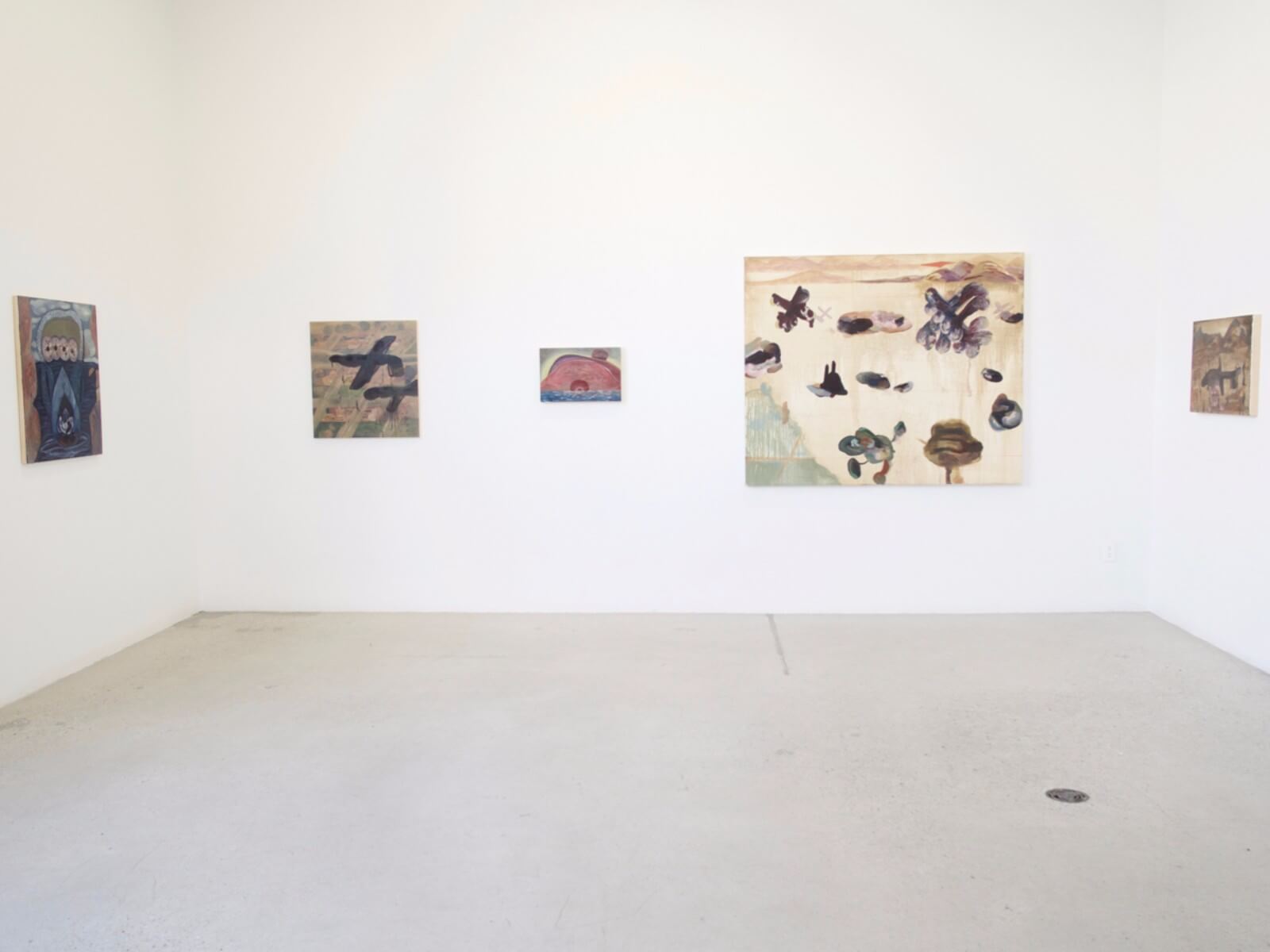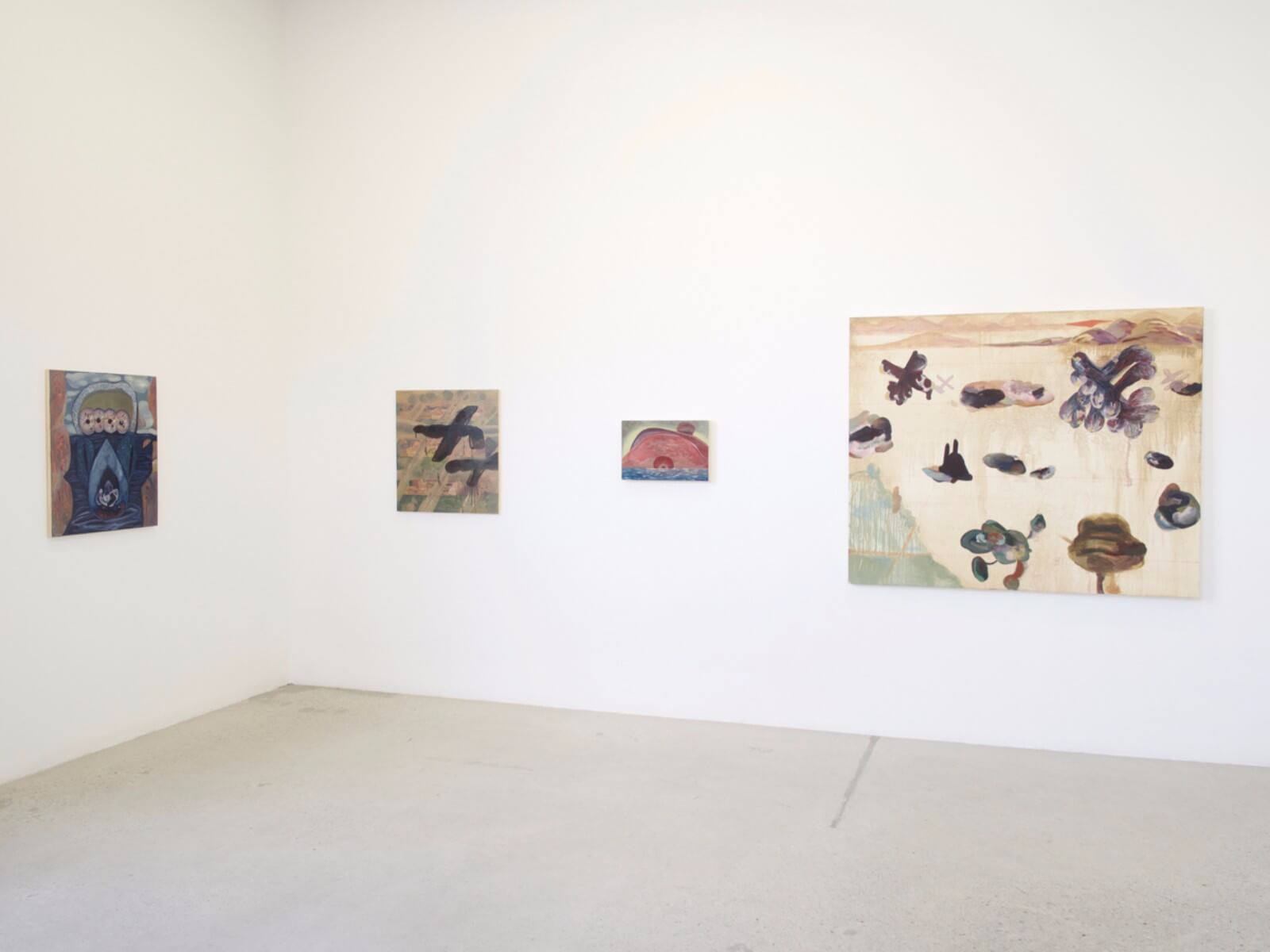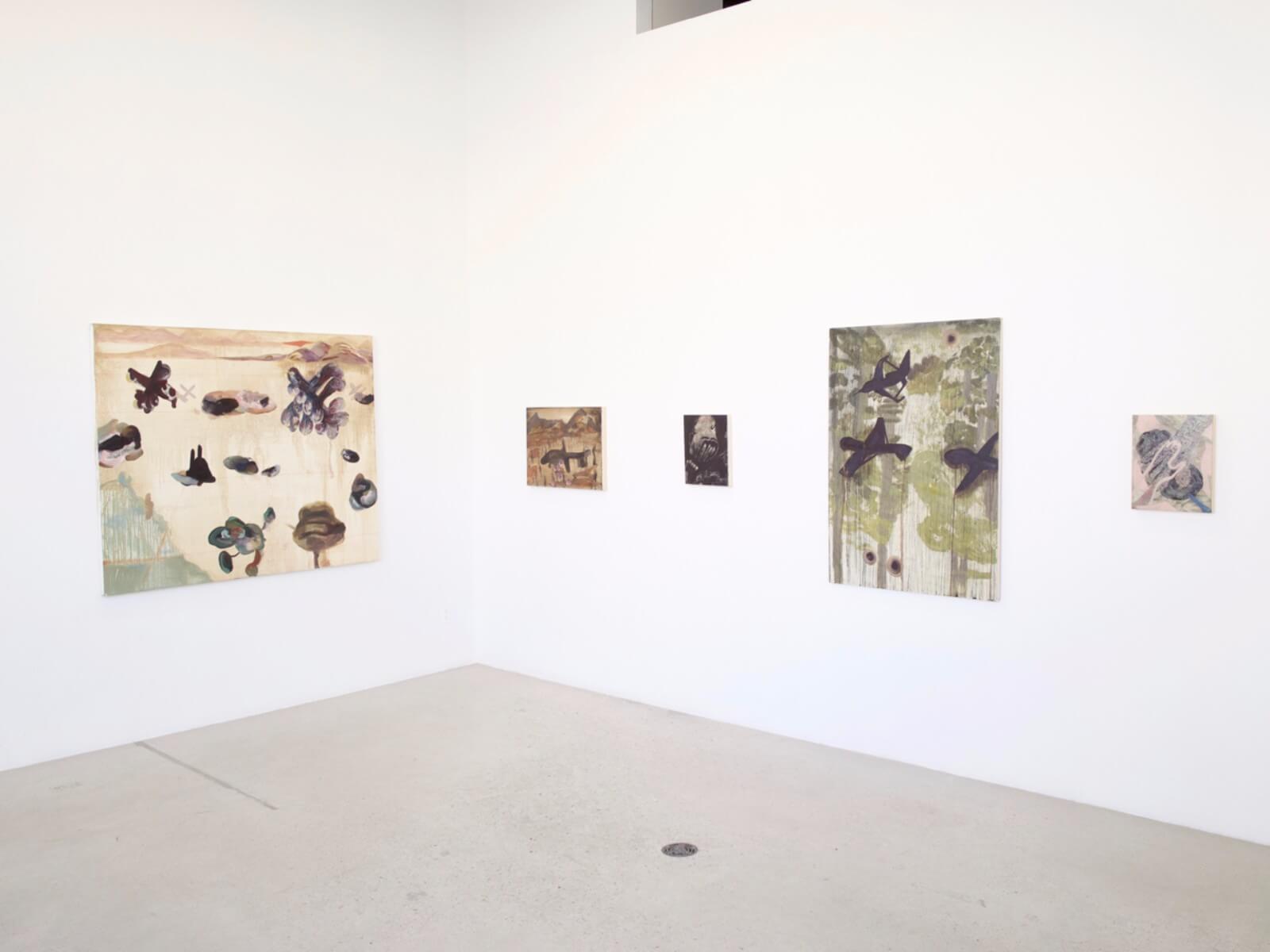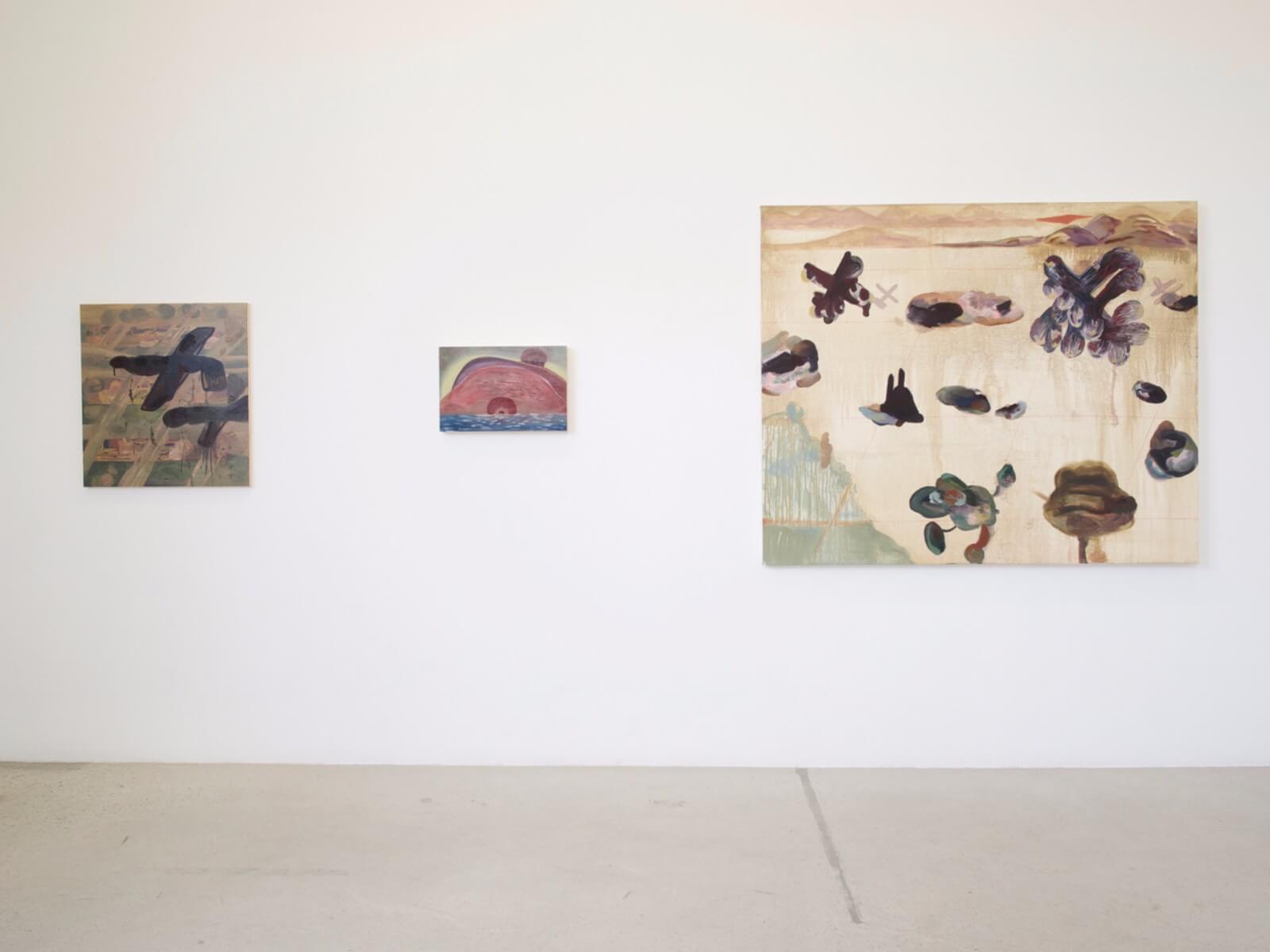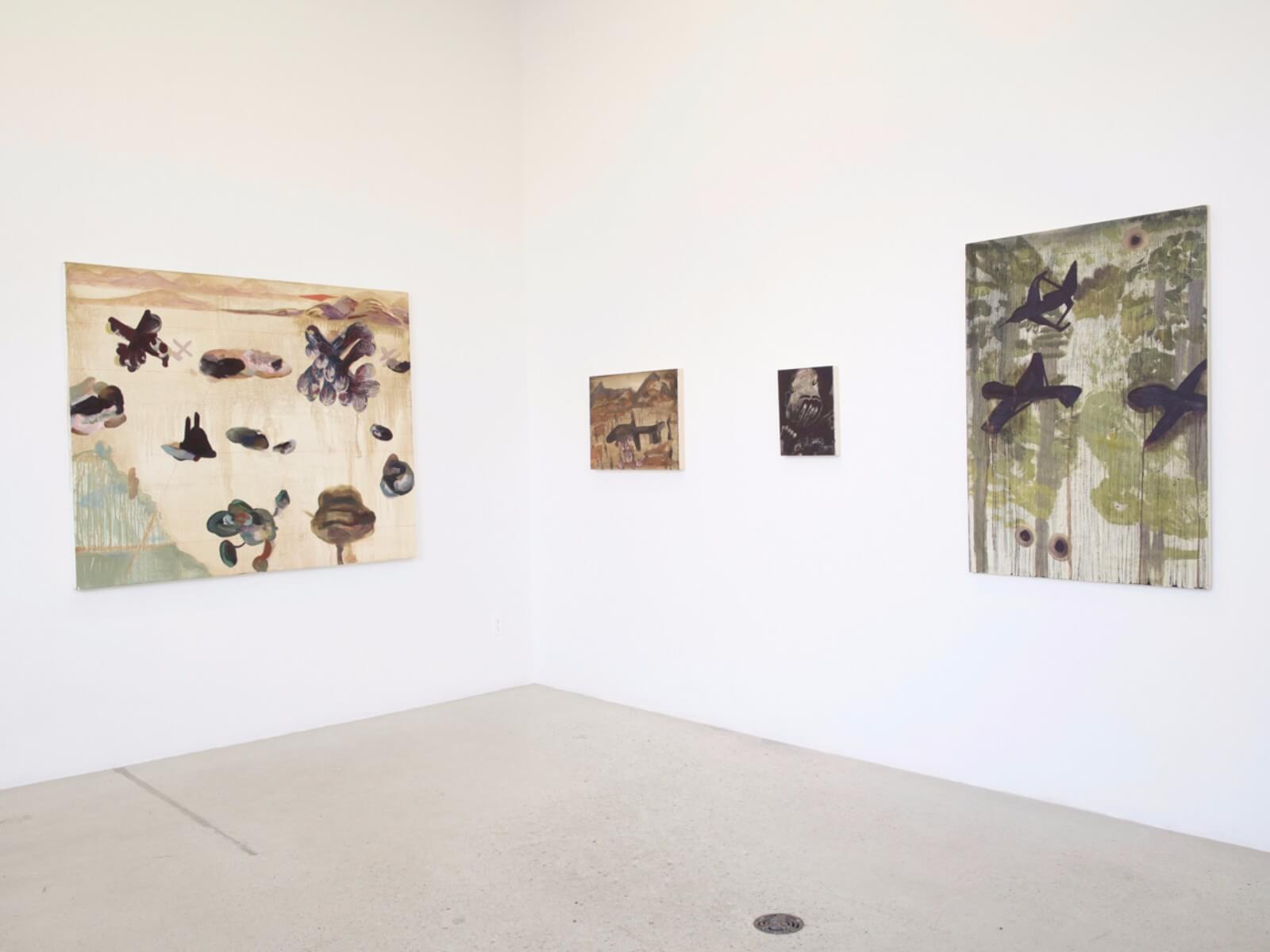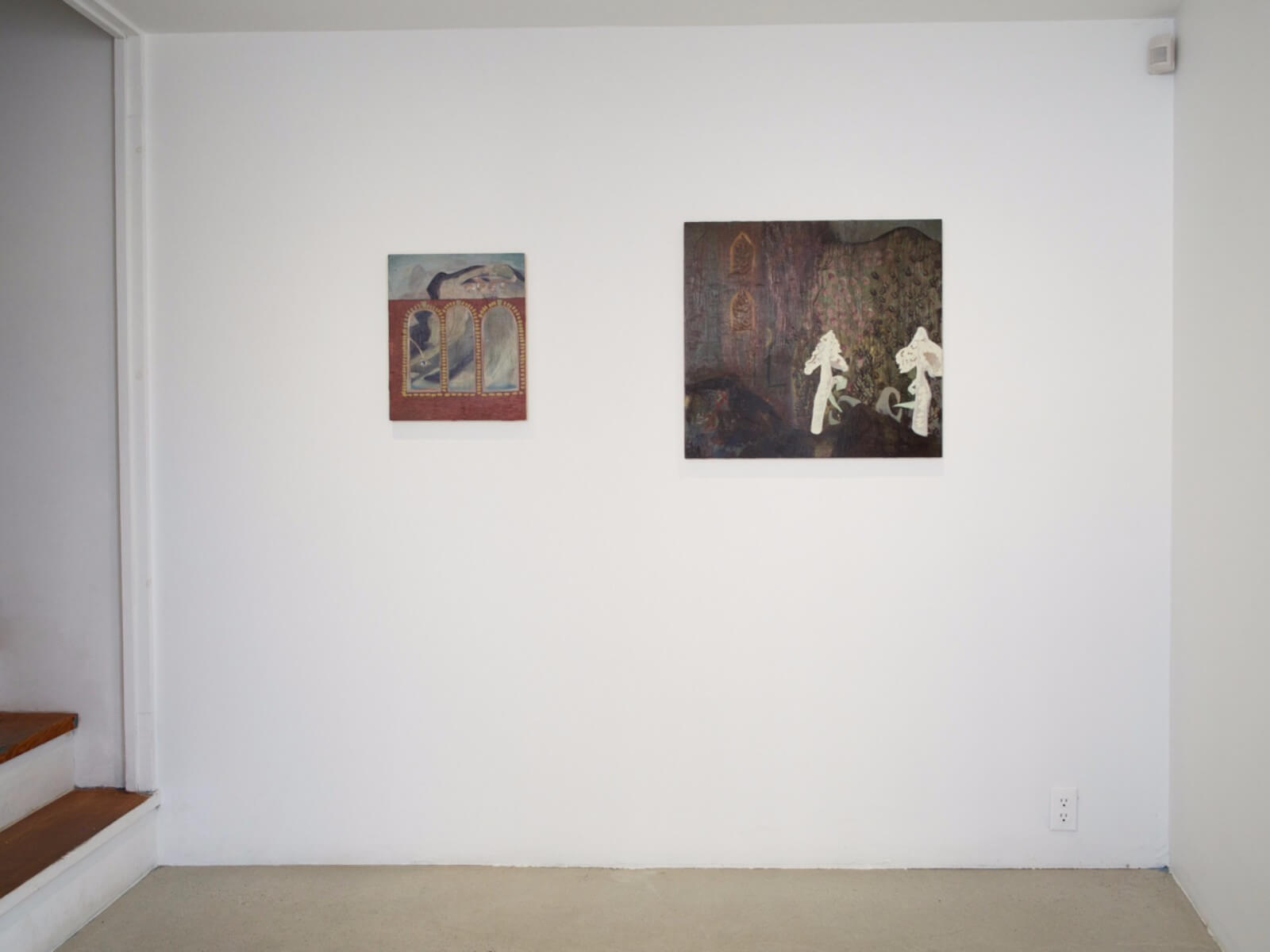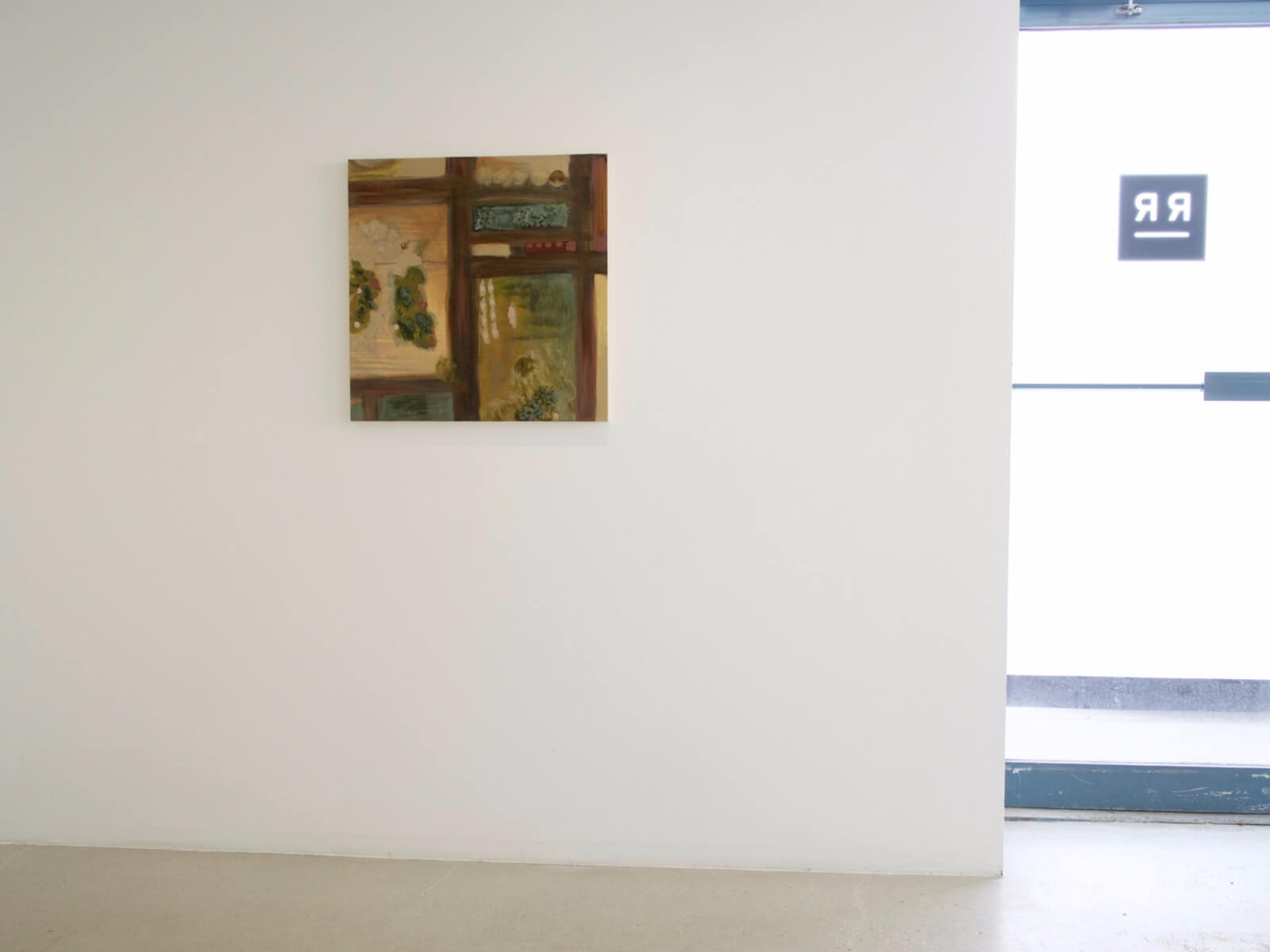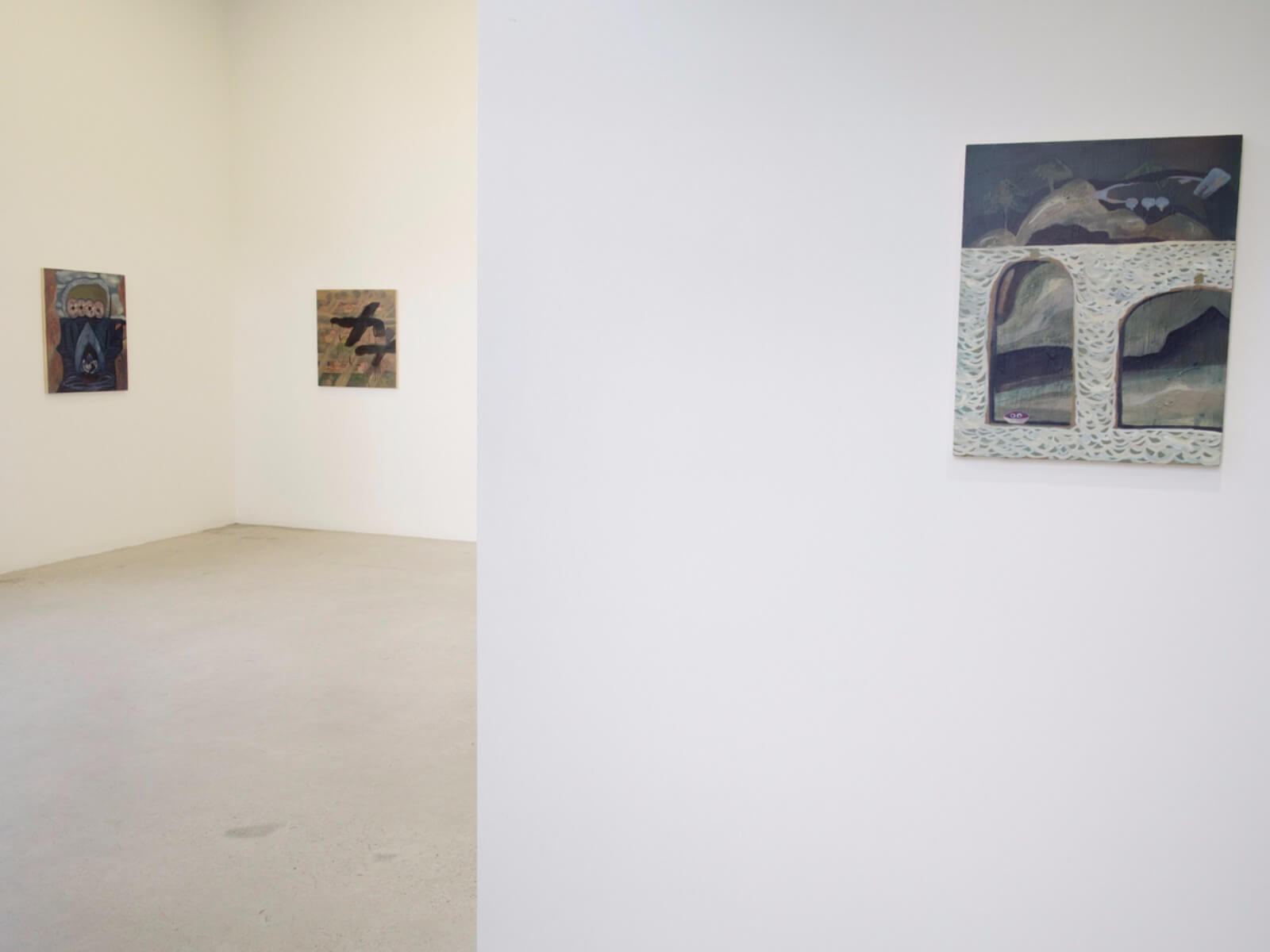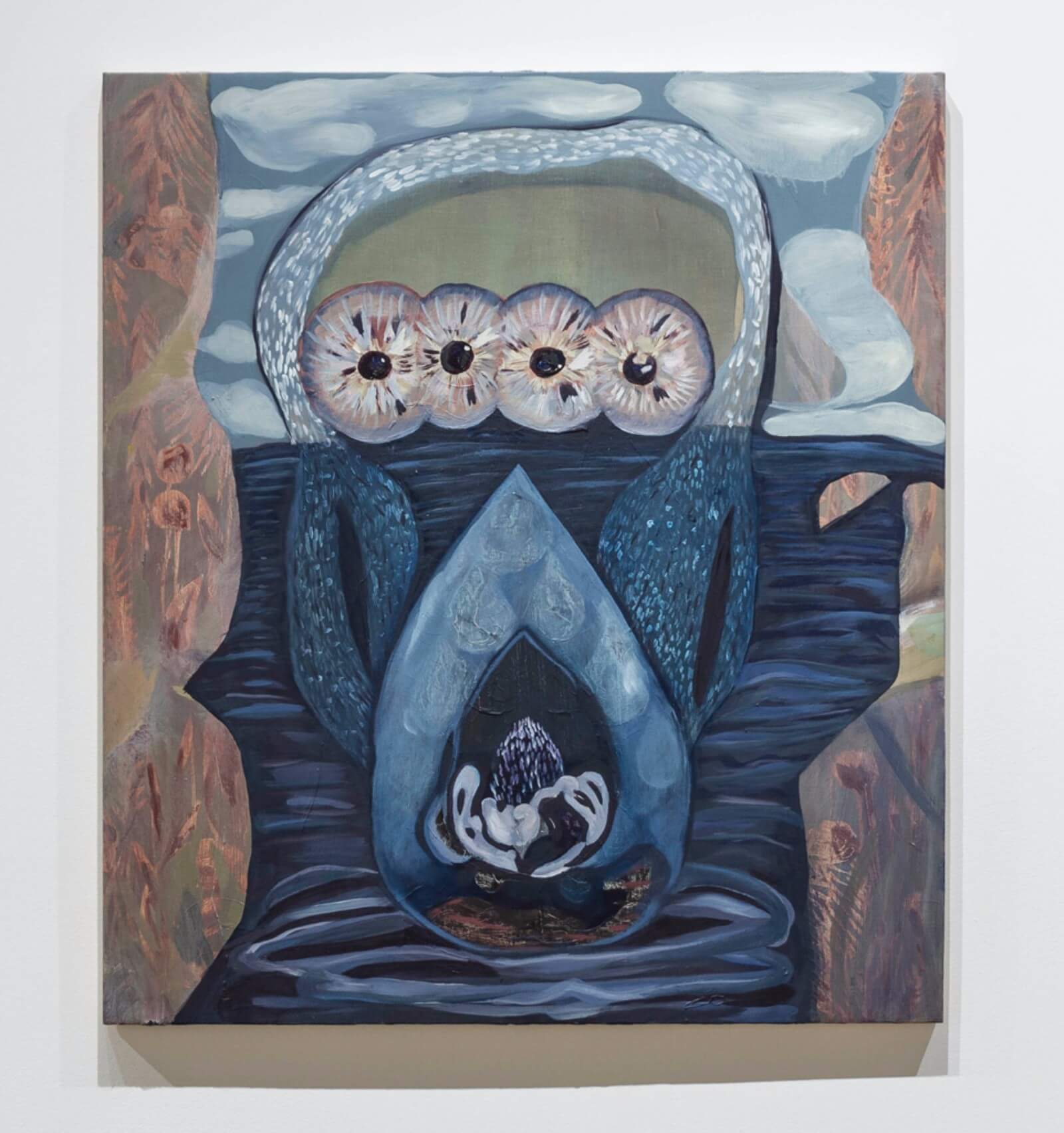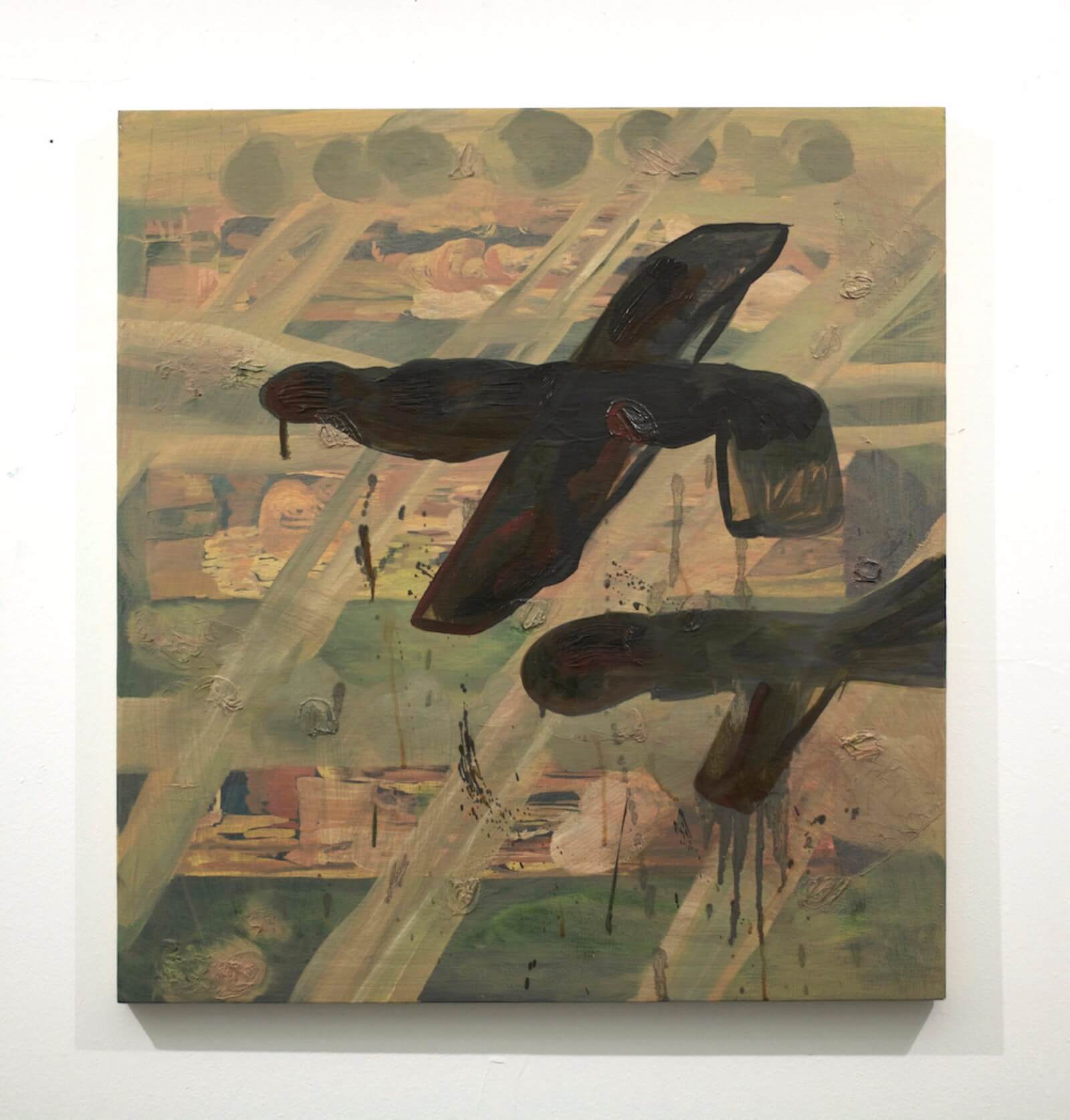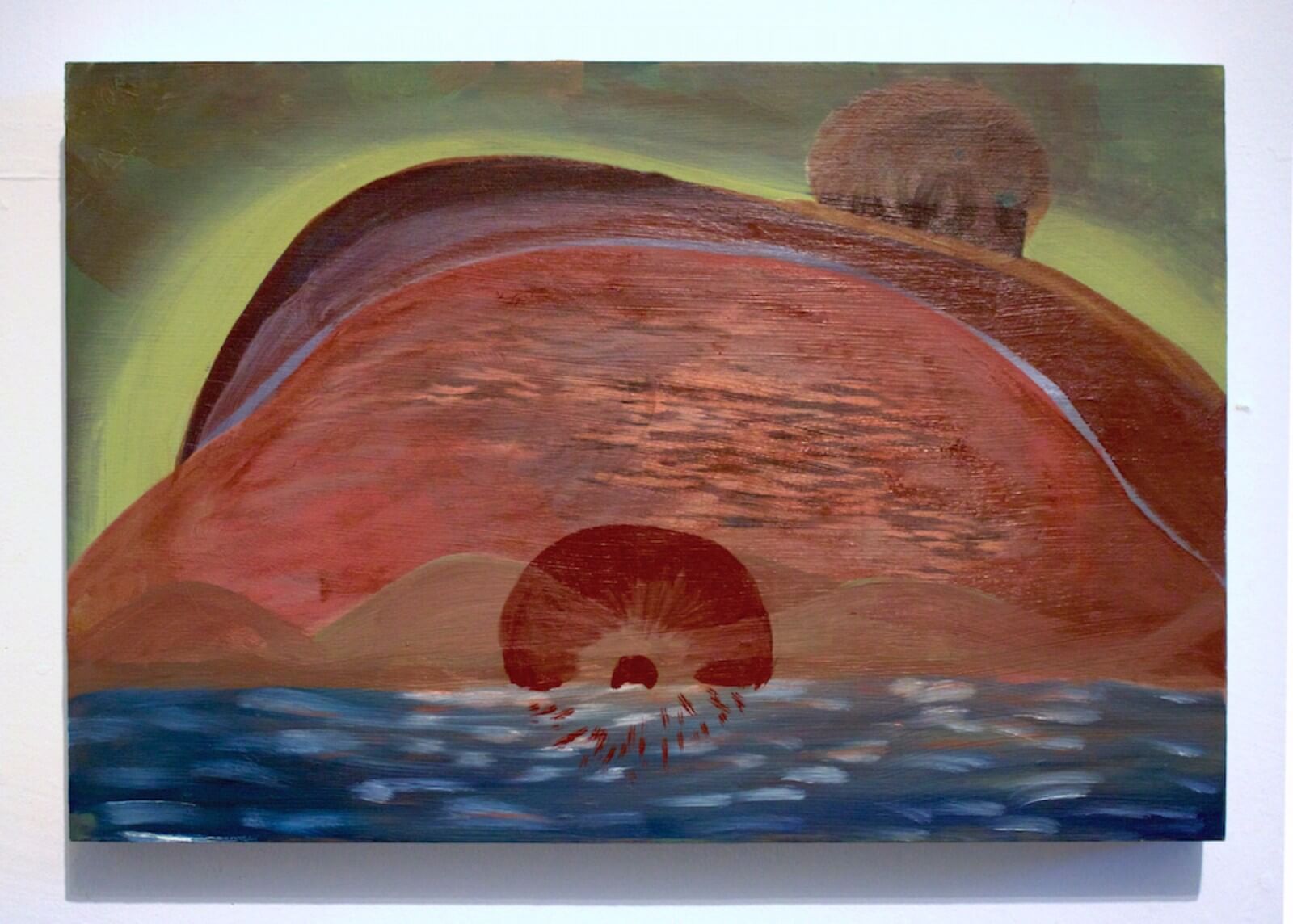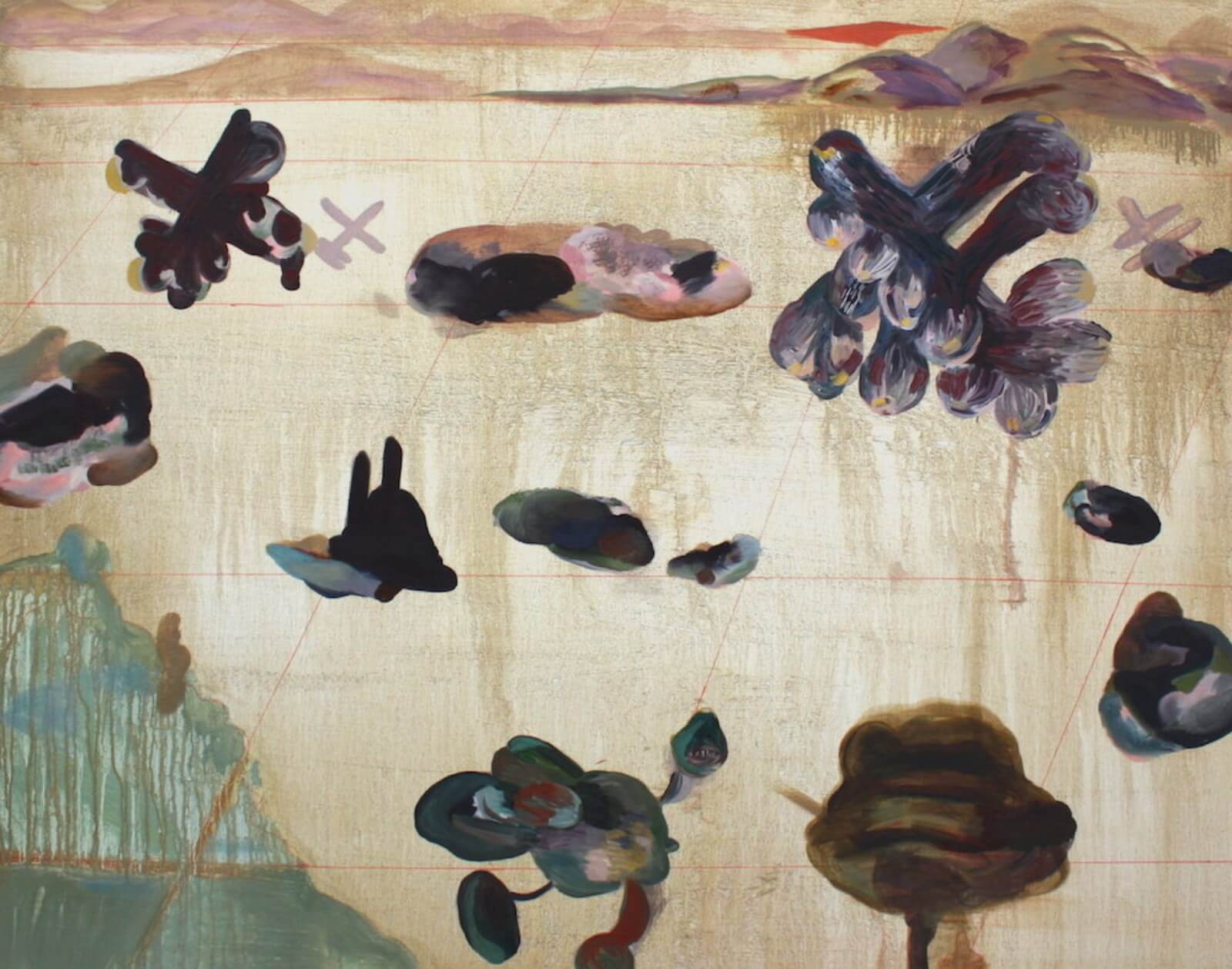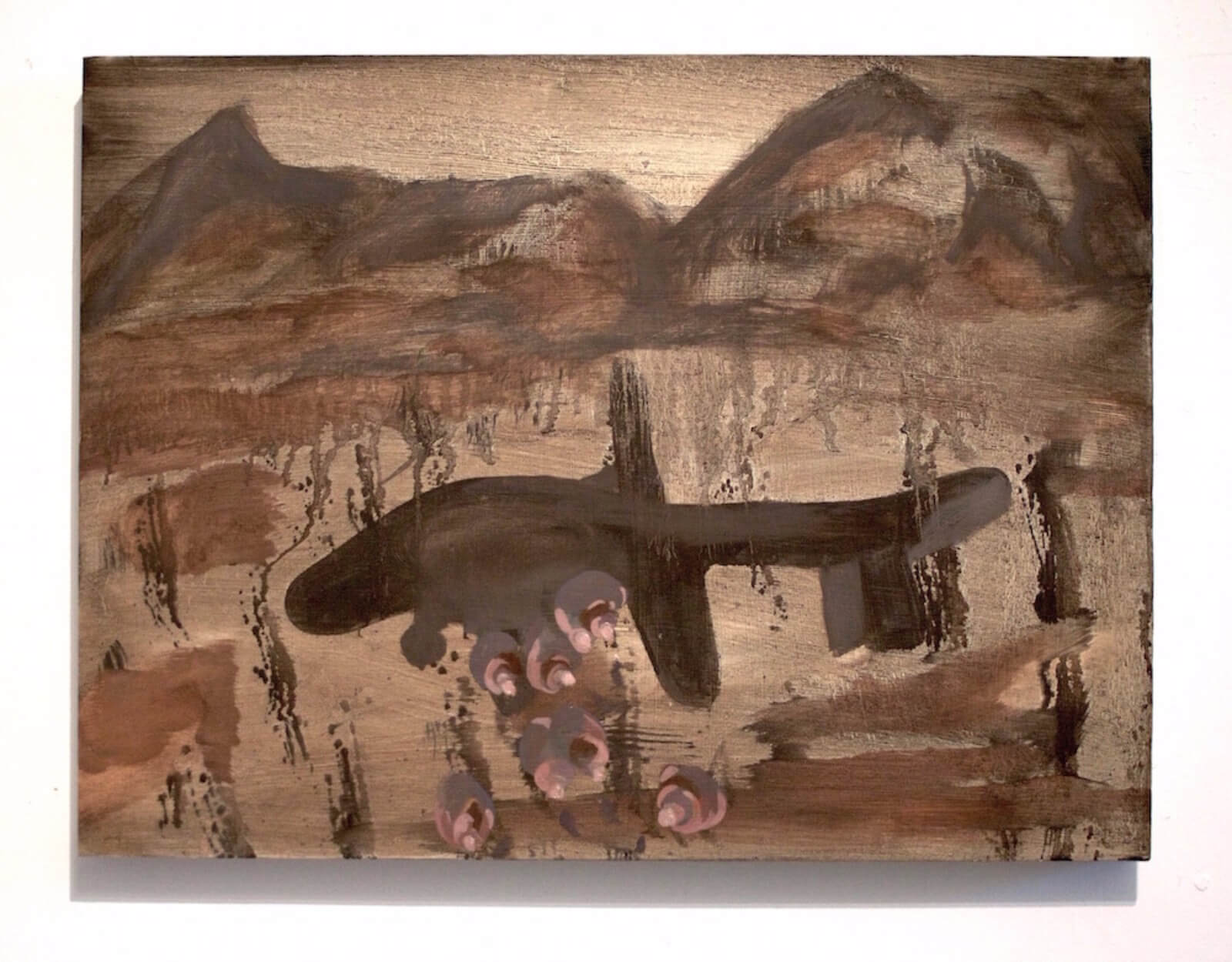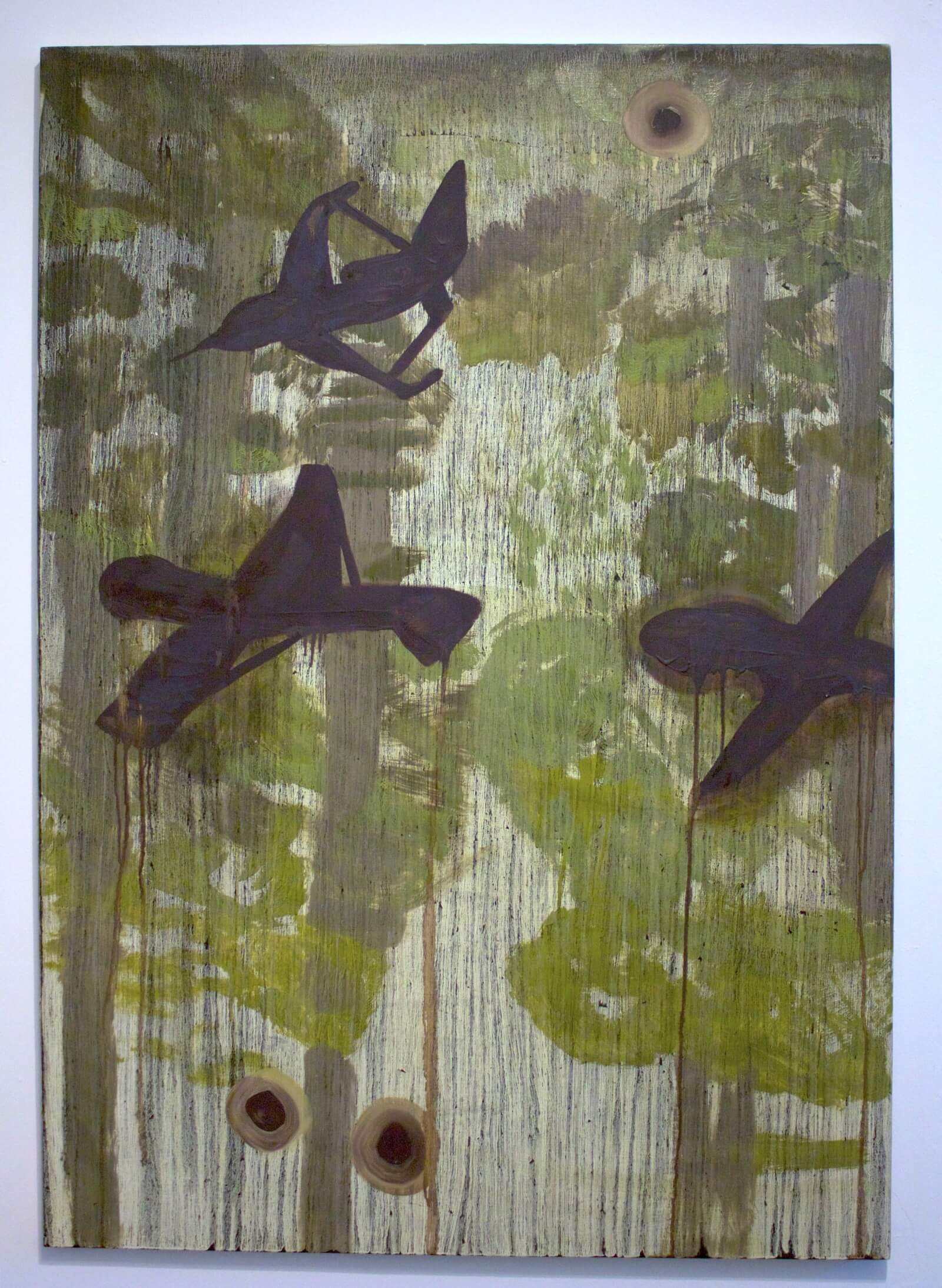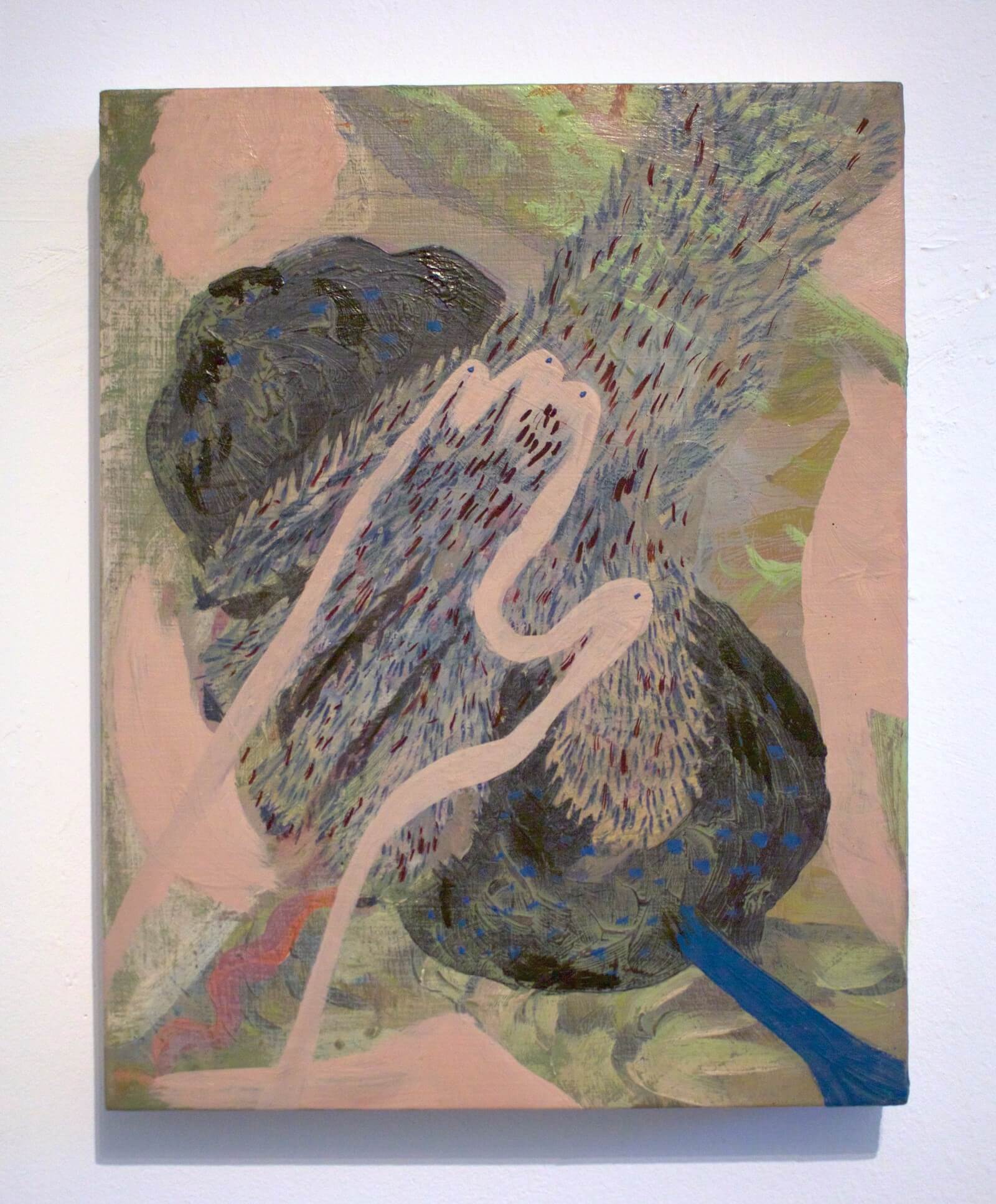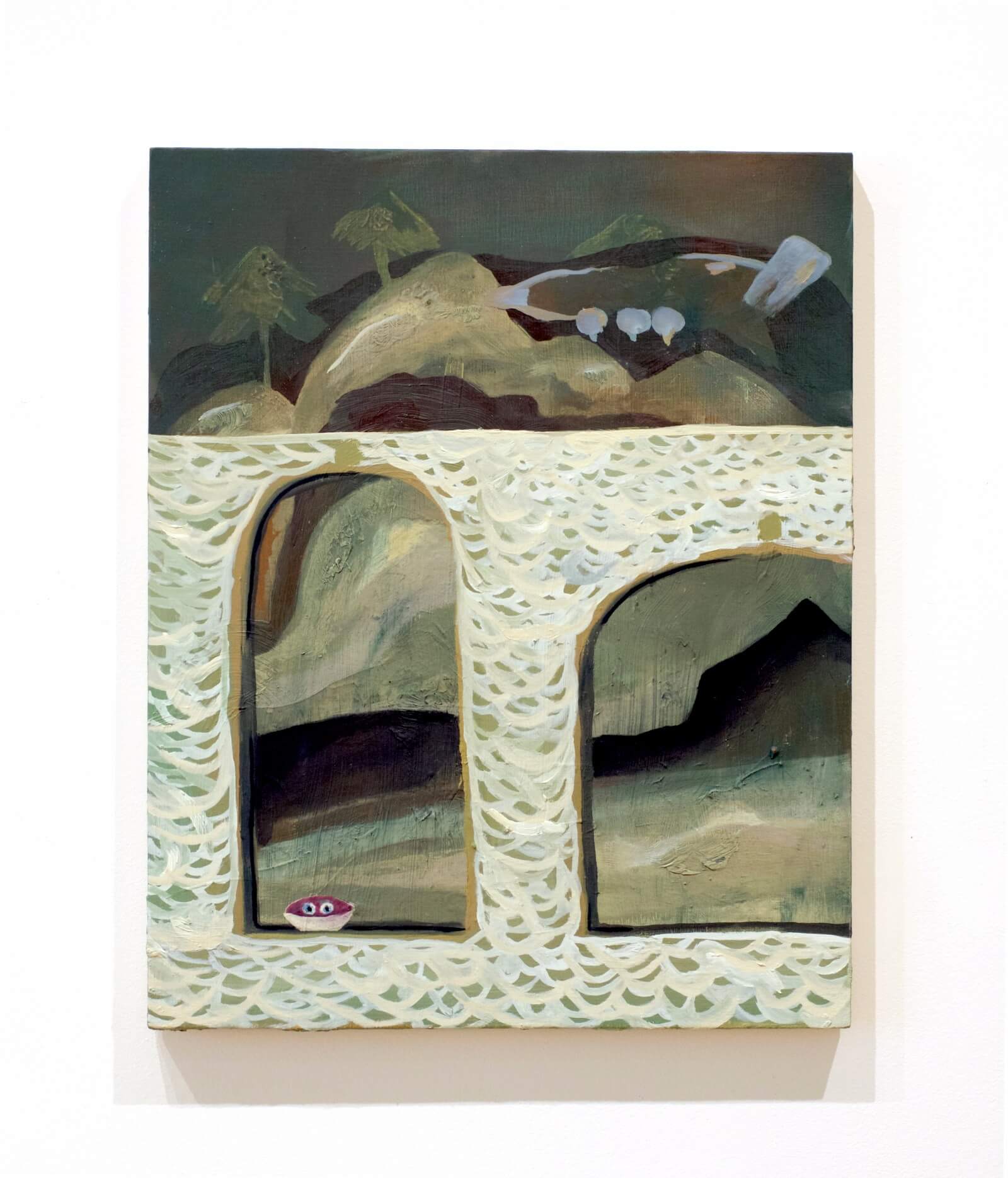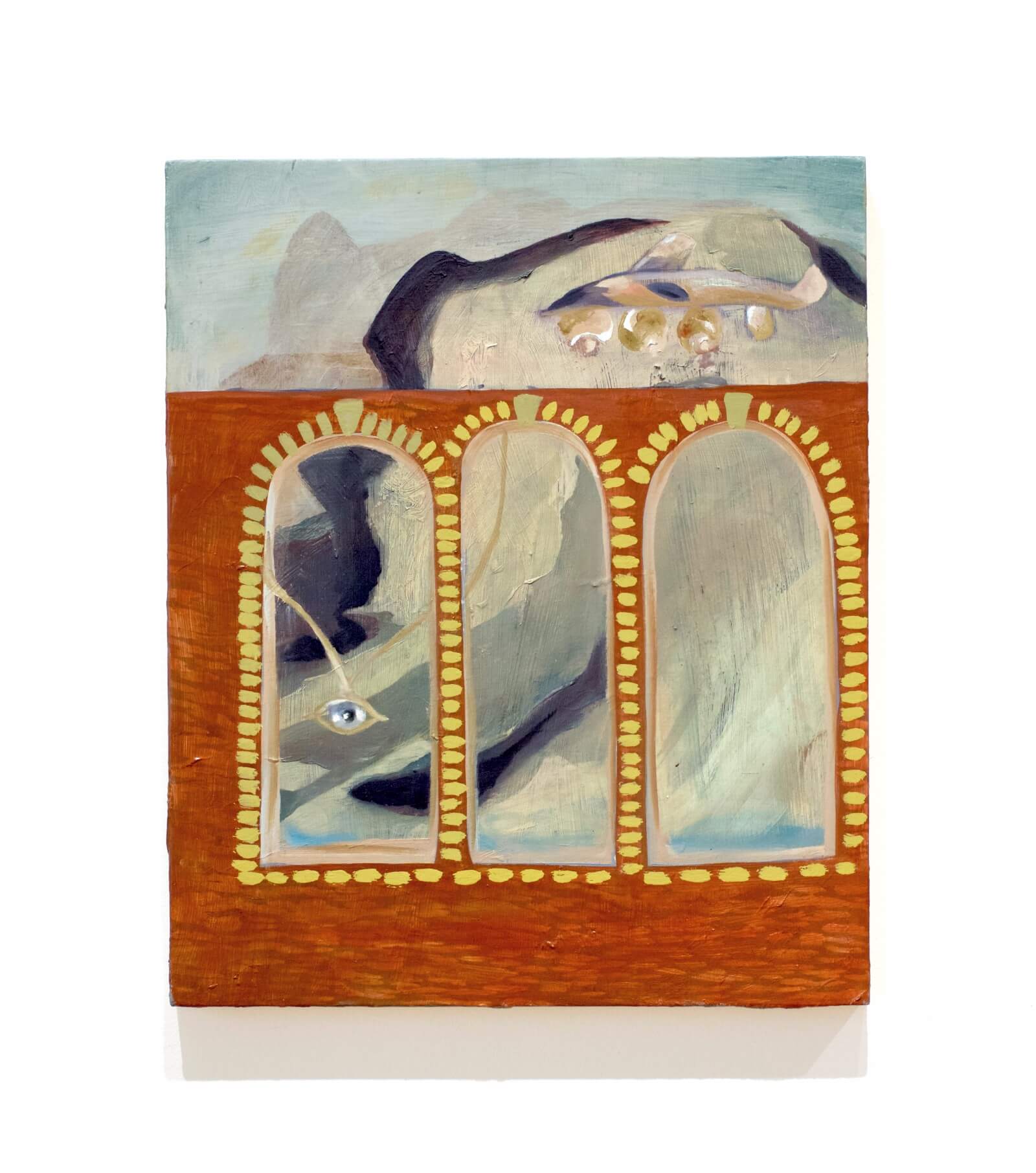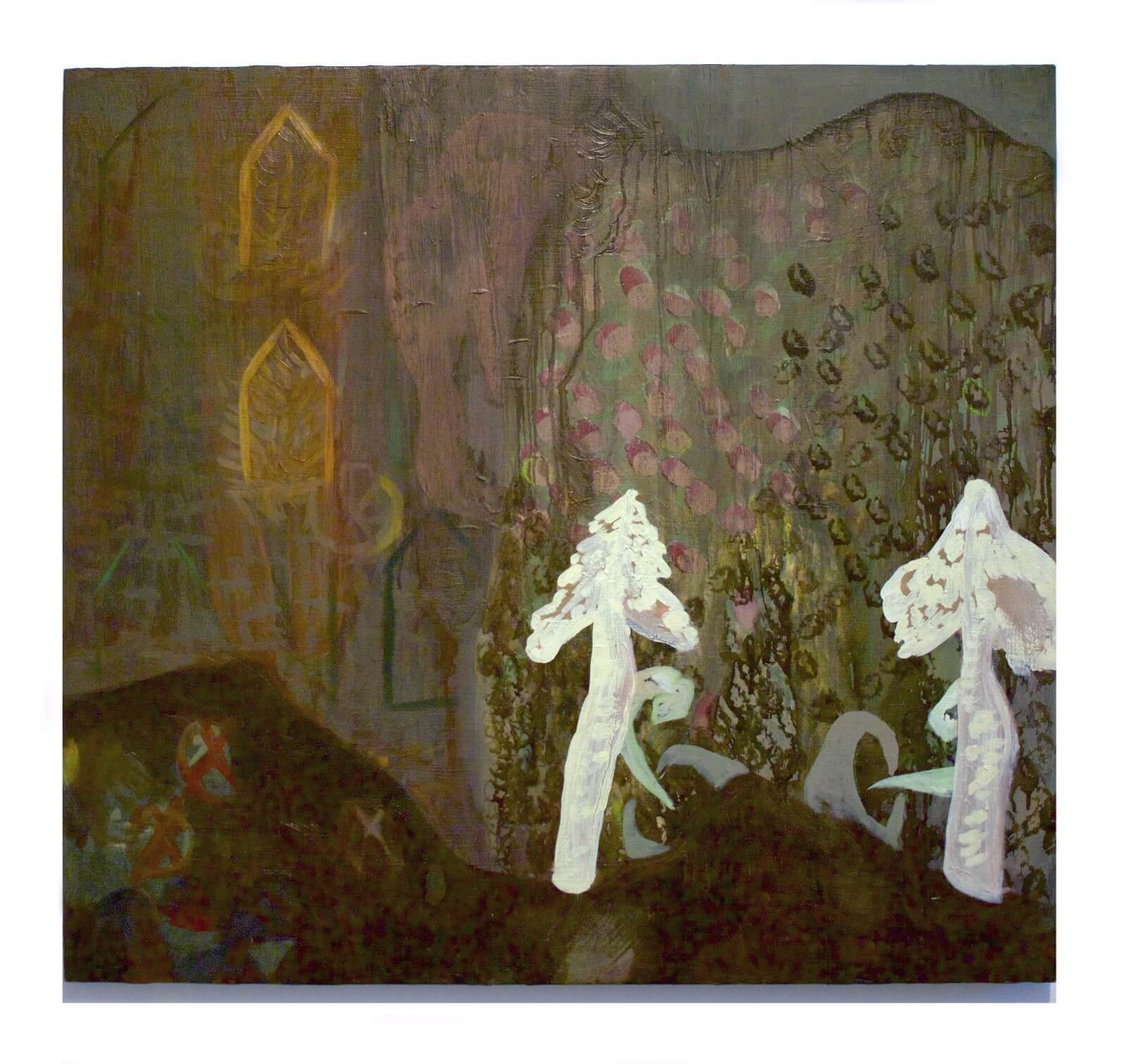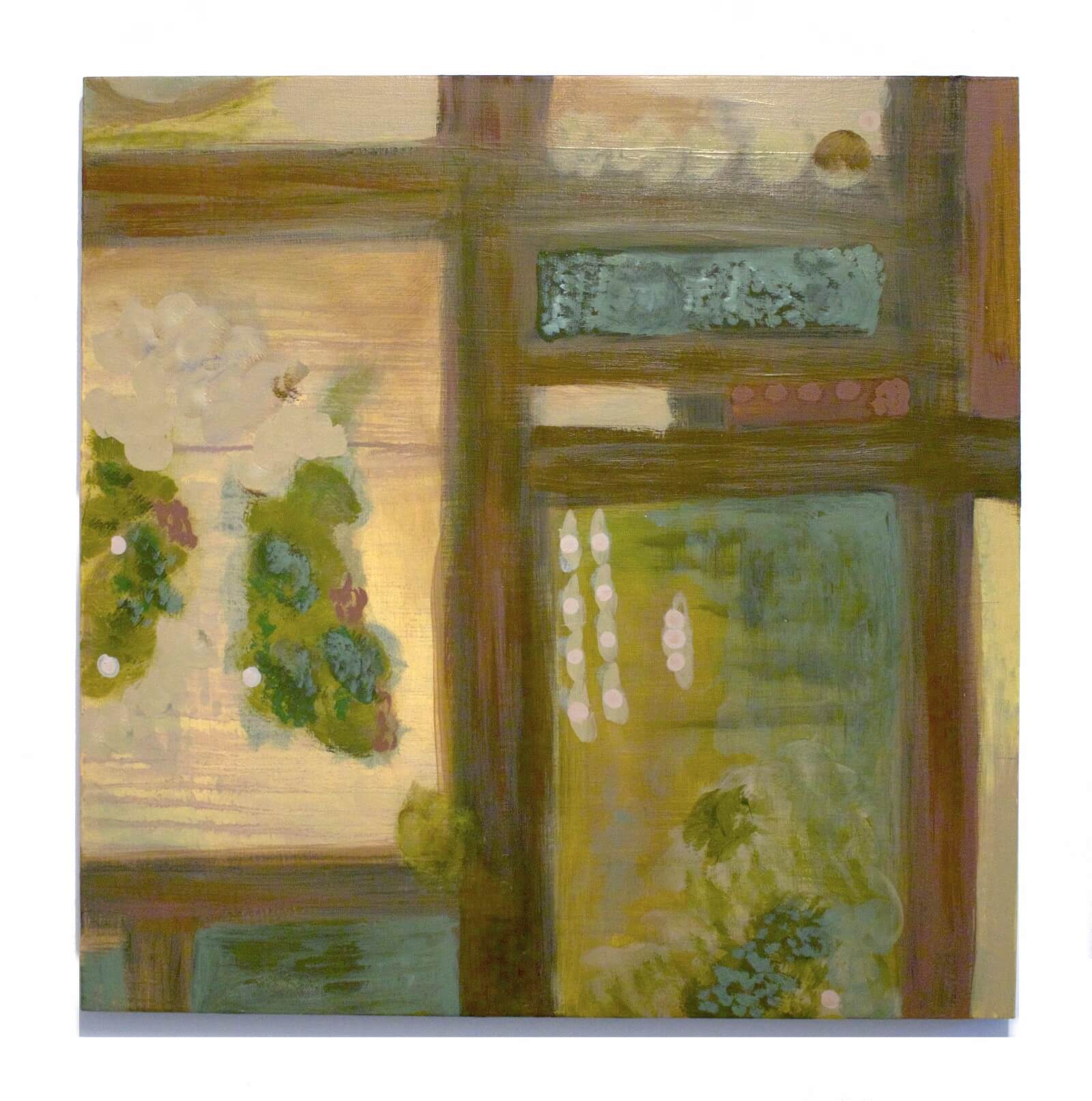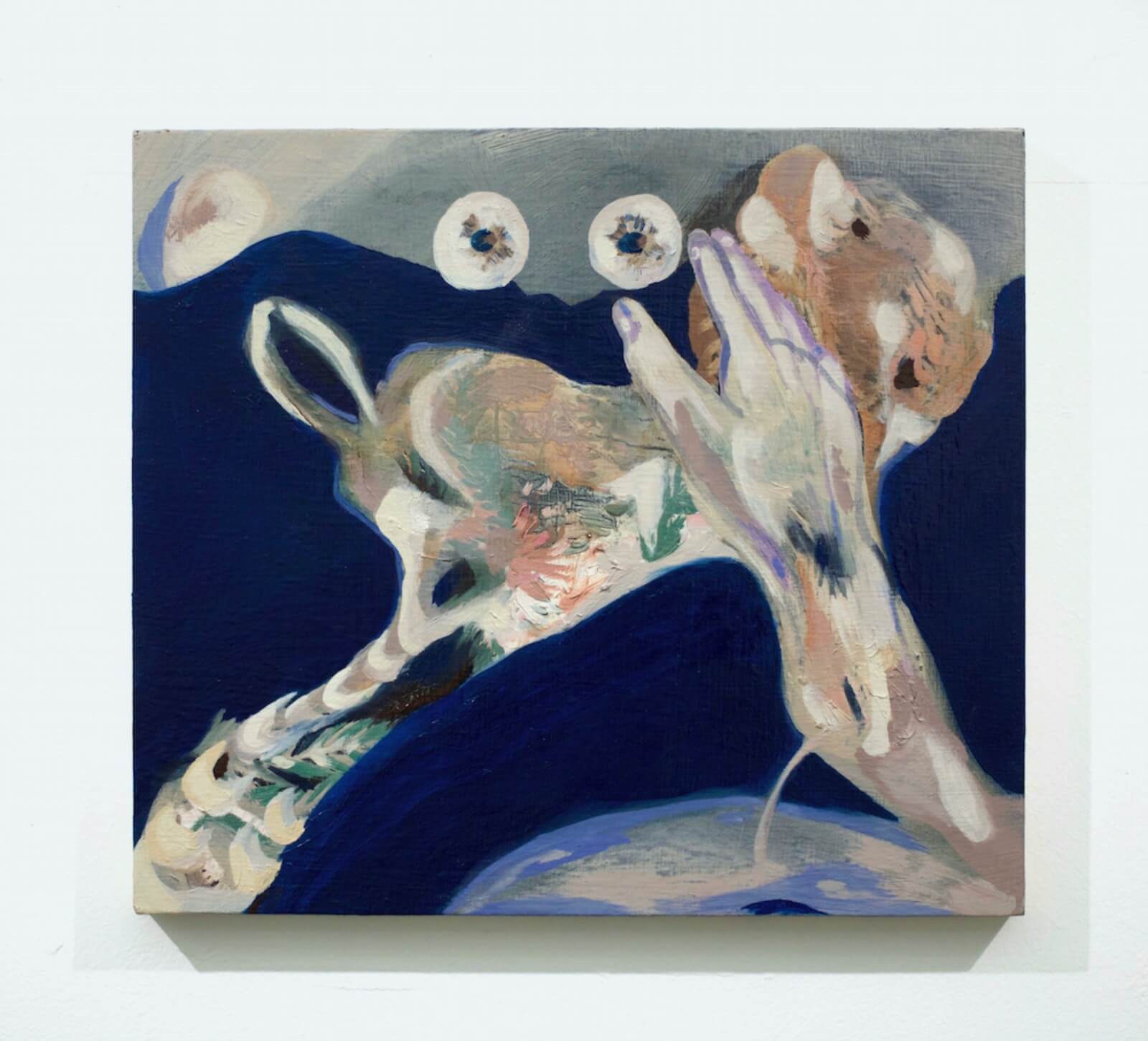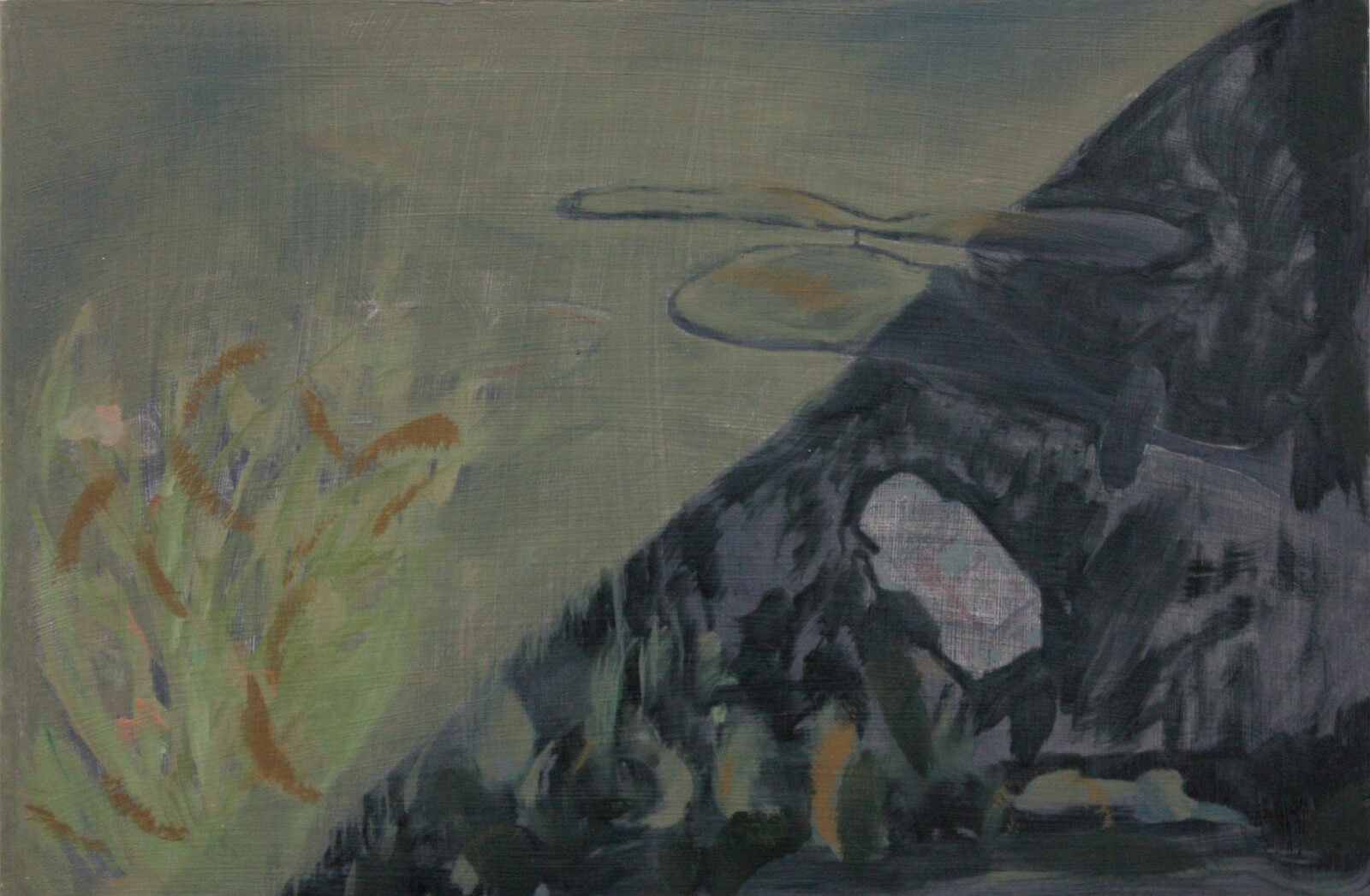 Press release
Landscape is something of a waning genre in contemporary painting. It is now largely the purview of photography where the realistic nature of the medium allows for impressive reportage of the conflicted world we live in with stressed natural beauty running up against rising planetary evidence of invasive human-made woe. Camera images are discursive in ways that painted images never are. Photographs show and tell while paintings tend to pretend and imagine. The value systems of the mediums differ and as a result a painted landscape can seem a mode of disengagement, something out of step with the pressing priorities of contemporary circumstance. Our experience of landscape is mostly mediated anyhow. It is a place now on the other side of the lens … the window… the windshield. We are out of touch, literally.
The smallish paintings of Amanda Boulos would restore that touch. They are visceral, painterly events full of brush marks, hesitations, drips, scrapings and surface-fresh blendings of interactive colour. Paint is its own landscape here and yet with an air of innocence found in its denotation of a separate landscape reality, a childlike legendary landscape of ancestral homecoming. The paintings are a memory pursuit aimed at refounding a state of connection to something lost. Her Palestinian background frames this as a political event and her Pouring Boys series with its aerial visions of invasive penile drones and warplanes resurrects generations of headlines from the Middle East. But the weapons of war also weirdly blossom with clusters of fruit and breasts that likewise rain down on the parched but managed farmlands below as if Boulos is counting costs and casualties mid air. Her paintings have convoluted timelines. They merge different spaces, different images yet forge them into a single field of meditation and memory. In the two Forming paintings that join series, we see a laying-on-of-hands: in one to stifle either a yawn or a cry, in the other, to quiet the furred paw of a beast. They are healing efforts, scaled small in comparison to the war scenes to restore a human frame of reference and reaction. The eyes that abound in many of the other paintings are a trope that bears witness to personal history within the political, to a watchful engagement with the landscape that recasts it not in topical environmental terms, but in an elemental human one where the landscape is inseparable from us.
Artists' Statement
ORAL NOTHING, CONCRETE PAINTING
Nothing concrete has been passed down to my family—no photos, no artifacts, nothing. This is true for many Palestinians who have been exiled from their homes. The subjects I paint come from oral recordings that I both inherit and collect from my family, archives and online sources. Depicting these narratives is challenging: their fragmentation and dislocation from their origins allows them to continuously shift and morph, collapsing space and blinding me to the larger picture. They are disfigured on many levels. However, these narratives represent one of the only windows into my parents' past. The information I have access to slips in and out of focus, resisting my gaze and silencing my studies. I paint both the moments that are crystal clear and those in which I feel like I am just floating in a sea of fragments.
DENY HISTORY, ACCEPT ALTERNATIVE KNOWLEDGE, CREATE UNPRODUCTIVELY
My paintings do not depict complete narratives or align with a grand national history. They do not even align with truth in a broader sense. Instead, I want to present the Palestinian experience through shattered narratives that continue to deny the integration of individuals into history. I focus on these narratives as destructive forms, forms that question their own existence and legitimacy. A destructive form denies its own identity; it does not provide you with a solution, but only (mis) leads you to alternative knowledge. I want to explore what these destructive forms create, and what information I can extract from them (even if that information is unproductive). I want my paintings to further complicate their narratives and dislodge the viewer, subverting the conventional melancholic narratives of Palestinian identity.
THE VOICES OF THE PAST ARE LOUD
The labour of finding meaning within Palestine's histories is frustrating, and they constantly mislead and confuse my research. Yet their voices are loud and seek the attention of myself and the future. Colin Davis' "État Présent" suggests that my behaviours and curiosities are related to the fact that intergenerational communication has a way of disturbing the "lives of [previous generations'] descendants even and especially if they know nothing about their distant causes." Davis also beautifully summarizes the simultaneous impossibility of resolving these inheritances and possibility of creating something new out of the old. In his words, "the spectre's secret is a productive opening of meaning rather than a determinate content to be uncovered."
Amanda Boulos recently graduated from the MFA program at the University of Guelph and received her BFA from York University. Her work on Palestinian diasporic narratives and histories is nominated for this year's RBC Painting Competition. She also develops these themes in video works such as Rouche Jump and Cut, which was screened at Whippersnapper Gallery in late 2016, and an in-progress series for Trinity Square Video's the moving copy residency.
About Richard Rhodes Dupont Projects
Launched in 2016 as part of the new Dupont St. gallery scene in Toronto, Richard Rhodes Dupont Projects was devoted to an exhibition program of contemporary Canadian art. Founding editor of C Magazine and editor of Canadian Art from 1996 through 2015, Richard Rhodes brought his expertise to exhibitions by emerging and established artists from across Canada. His informed critical eye launched and nurtured numerous careers in the Canadian art world over the past three decades. A photo diary of his continuing interests and work can be seen on Instagram at @c4rhodes. The gallery website will continue to be viewable at: www.dupontprojects.com.