Selected Works
Josh Thorpe
Microtones
April 16 - May 7, 2016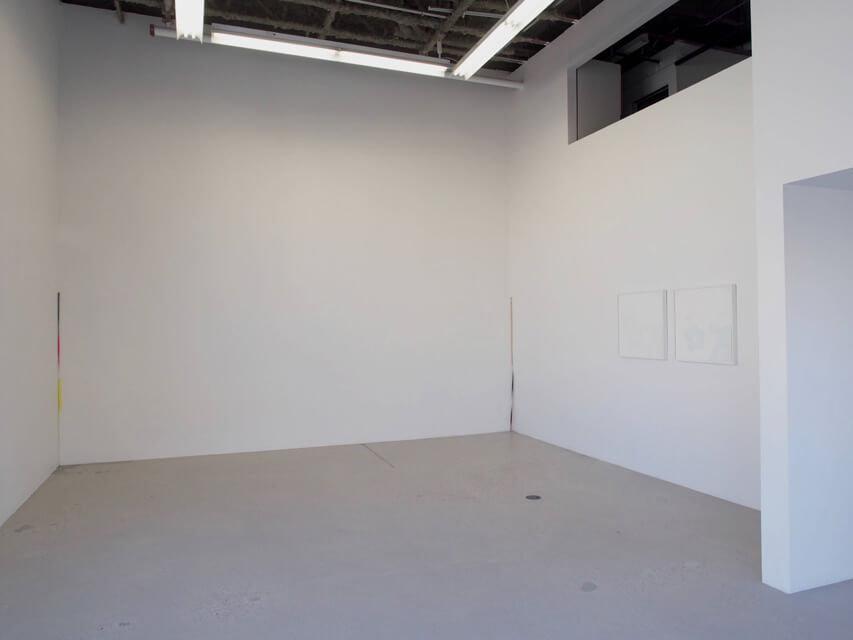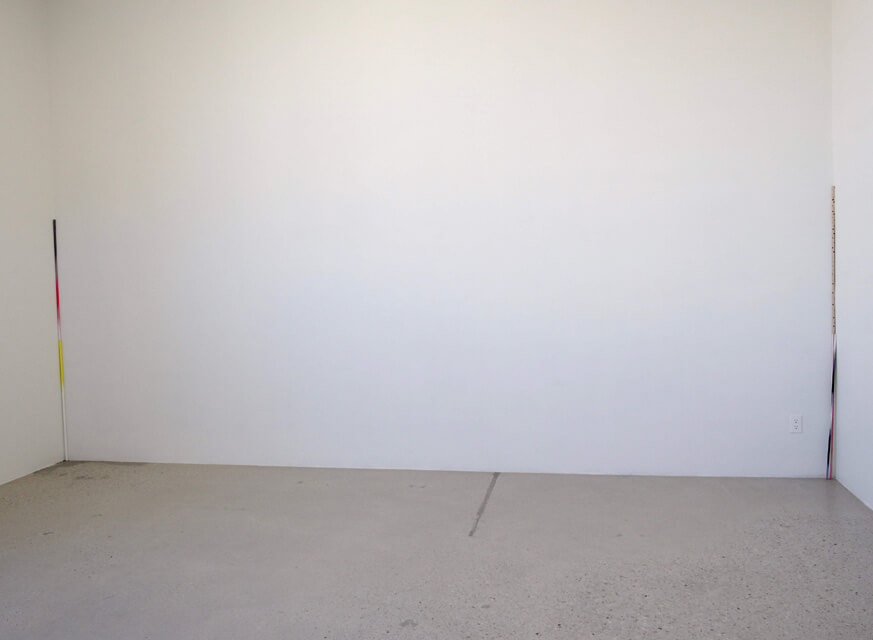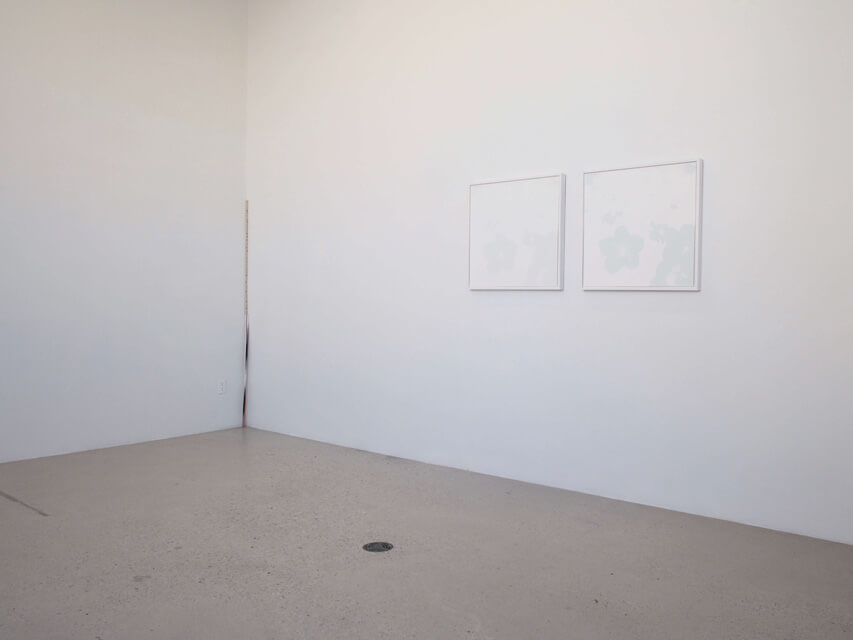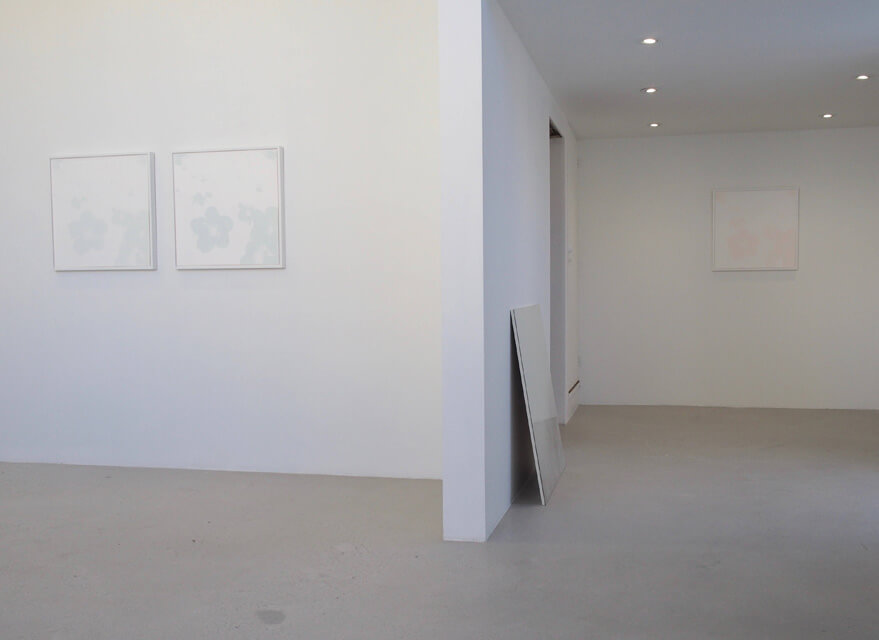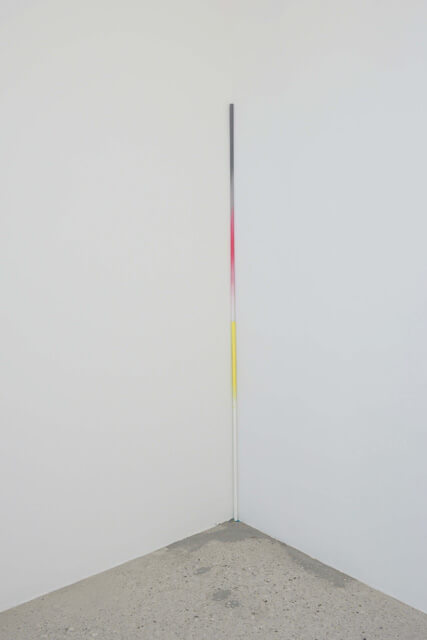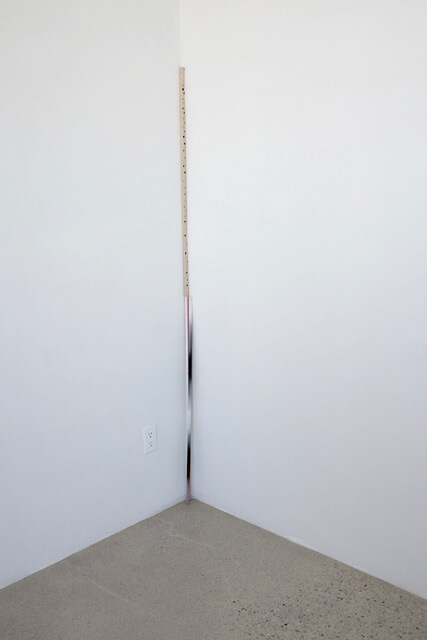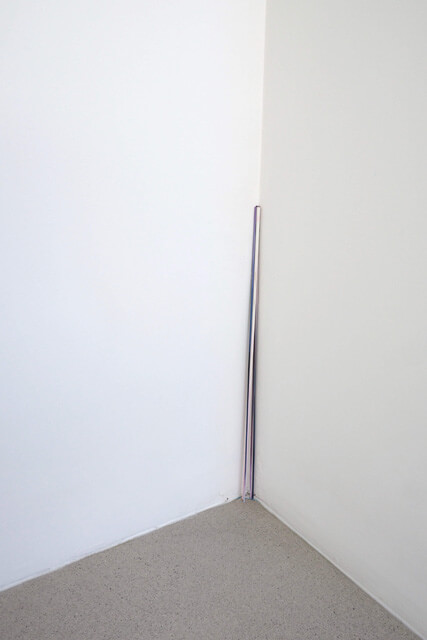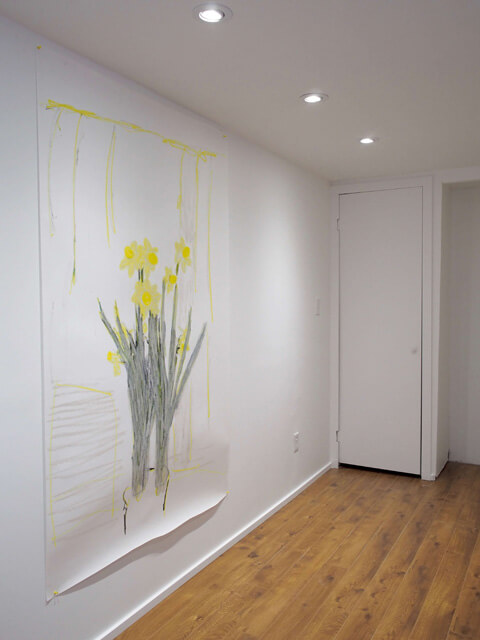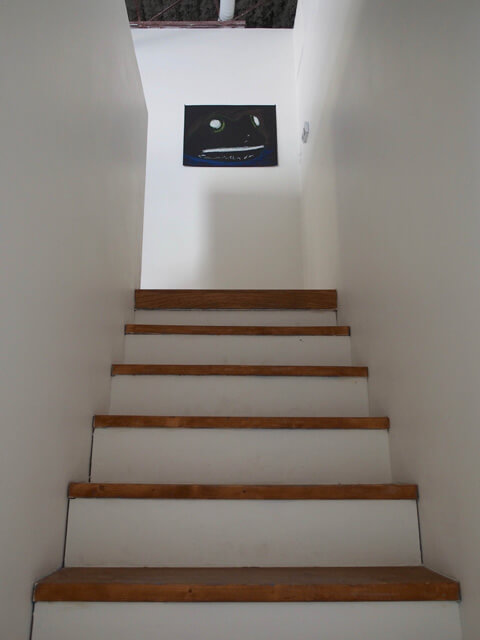 Audio

Willows and Palms, (2016), sound recording, 22 minutes.
Press Release
Richard Rhodes, former editor of Canadian Art magazine, announces the opening of Richard Rhodes Dupont Projects at 1444 Dupont St. Unit 31, Toronto.
The inaugural exhibition features selected works by Toronto artist Josh Thorpe. Since his graduation with a Master's of Visual Studies from the University of Toronto in 2009, Thorpe has explored the edges of perception with sculpture, mono prints, drawings, texts and sound works. Engaging the dynamics of liminal vision, his art vibrates in a rich state of indeterminacy. It distils time and space so that we see the superimposition of fixity and flux. As a philosophical modelling of complexity, the work tracks the intimate nature of perception and anchors vision to a mindfulness of physiological experience.
Thorpe's "stick" works have a disarming simplicity. He paints thin lengths of wood trim with a variety of colours, tones and gradations on all four sides then leans or stacks them into the corners of rooms where they unobtrusively commandeer the experience of the space and architecture. Some colours find their reflection in the immediate surroundings; others carry a representational resonance. We find ourselves engaging a physically slight sculpture that nonetheless vibrates on an expanding scale. They can destabilize the vertical solidity of the room or establish connection with the view out the window. Like casual occupiers, they embody both focus and detachment, speaking to states of mind with a long history in aesthetic appreciation.
The other works find different routes to unstable complexity. 'Blown Out Mountain" works with an image photographed by Thorpe's father at film school in 1962 as part of an exercise in over exposure. The hillside view evaporates into a subtle series of greys corroded by the light in the sky. Thorpe presents the enlarged image under glass and the resulting surface reflections bring a new source light to the equation across a 54- year divide. The overlay of old light with new light testifies to a continuous history of immediacy. It links generations and locations and reminds us of art's long tradition of monochrome experimentation in the work of artists like Robert Ryman and Ad Reinhardt—and before them Malevich, the Impressionists and Turner. Thorpe's "flower" mono prints work in the same vein. They reprise Warhol, but without the native irony. They foreground a slippery identity that elides Pop and kitsch and contemporary Green politics with a state of flickering wonderment at art's long dialogue with nature. Thorpe always takes this long view. In presenting it to us microtone by microtone he makes a statement about the largeness of the world we live in.
Josh Thorpe is an artist and writer living in Toronto. He also teaches and consults on writing and rhetoric. His several published books include Dan Graham Pavilions: A Guide (Art Metropole), The House, and A dog at sea (both beaucagearts press). He will soon complete "Flags" a public artwork for the City of Toronto. He has upcoming exhibitions at CSA Space, Vancouver and 3A Gallery, New York.
Artist Statement
Most of my work in art, music, and writing feels to me like nocturnes and reveries. Or, it responds to moments of exception: intoxication, ecstasy, dream, hypnogogic hallucination, and the twilight vision that comes as each day seems suspended in the moment of change from light to dark. All the works assume complexity and change, even if they are "still" at first glance. They are imagined as vibrating moments in a universe dense with electricity and teeming with life.
I remember an architecture theorist comparing a street scene to a simple sentence. You can say it has a subject and a predicate, or it has nouns and verbs. Maybe you could also say this of a work of art, or a piece of music. Writing, visual art, music—all three involve images, colour, rhythm, change over time, relationships of affect, theatrical relationships, even ethical relationships. So there is softness, and languishing, and coarseness, and humour, and speed, and surprise....
Or all three—art, music, writing—are visual, auditory, and textual. And all three involve invocations or arguments. They say, look at this, follow me, feel this way, don't look at that. I see a flower. The flower glows. The world is spinning and the air is in motion. People talk too much and in a foolish manner. War and suffering seem to persist. They elected them. He dances like that. The butter is in the drawer. She mentioned the dog that brought its bone in, which we didn't want it to do. Don't think of the King of Bologna, which doesn't exist, as far as I know. We go there Tuesdays. Colour begins in the imagination but permeates the endless atmosphere. Everything is everywhere. Touch is an interpretation of interactions between our own electrons and the electromagnetic field. Listen to the sound of slowed-down slide guitar and the rain.
Maybe the sticks are the limbs of some sleepwalking ghost in fancy dress who has tipped into the corner and is about to disappear; the prints visions of twilight; the drawings drunken and ecstatic nocturnal blurs. Each is a mood.
The music, Willows and Palms, was begun in 2008 and finished in 2016. It consists of dictaphone micro-cassette recordings of singing and guitar, slowed down, as well as recordings of domestic puttering, rainfall, fireworks, and recent improvisations on Richard Rhodes' 30-year-old classical guitar, inside of which is inscribed "to Fabrice with love."
It's first an exploration of particular sounds that excite my ears—sounds that are often kind of crackling and disappearing—but there are also huge differences in scale and character in the work. The long, slow melodies are like a landscape or some wordless and dopey inner monologue, while the raindrops and fireworks are interjections that disappear before you can even hear them. (Willow and palm, incidentally, both describe types of explosion in fireworks.) So I guess the work operates in several different times. And perhaps different spaces. The bass seems to resonate the chamber of the room while the explosions echo off its walls.
Microtones are units of harmony smaller than the smallest interval on the piano. You can't play microtones on a typical keyboard, but we hear microtonal tunings all the time. Even when we talk. — Josh Thorpe
About Richard Rhodes Dupont Projects
Launched in 2016 as part of the new Dupont St. gallery scene in Toronto, Richard Rhodes Dupont Projects was devoted to an exhibition program of contemporary Canadian art. Founding editor of C Magazine and editor of Canadian Art from 1996 through 2015, Richard Rhodes brought his expertise to exhibitions by emerging and established artists from across Canada. His informed critical eye launched and nurtured numerous careers in the Canadian art world over the past three decades. A photo diary of his continuing interests and work can be seen on Instagram at @c4rhodes. The gallery website will continue to be viewable at: www.dupontprojects.com.