Katherine Knight "Models and Mottos"
February 4 – February 25, 2017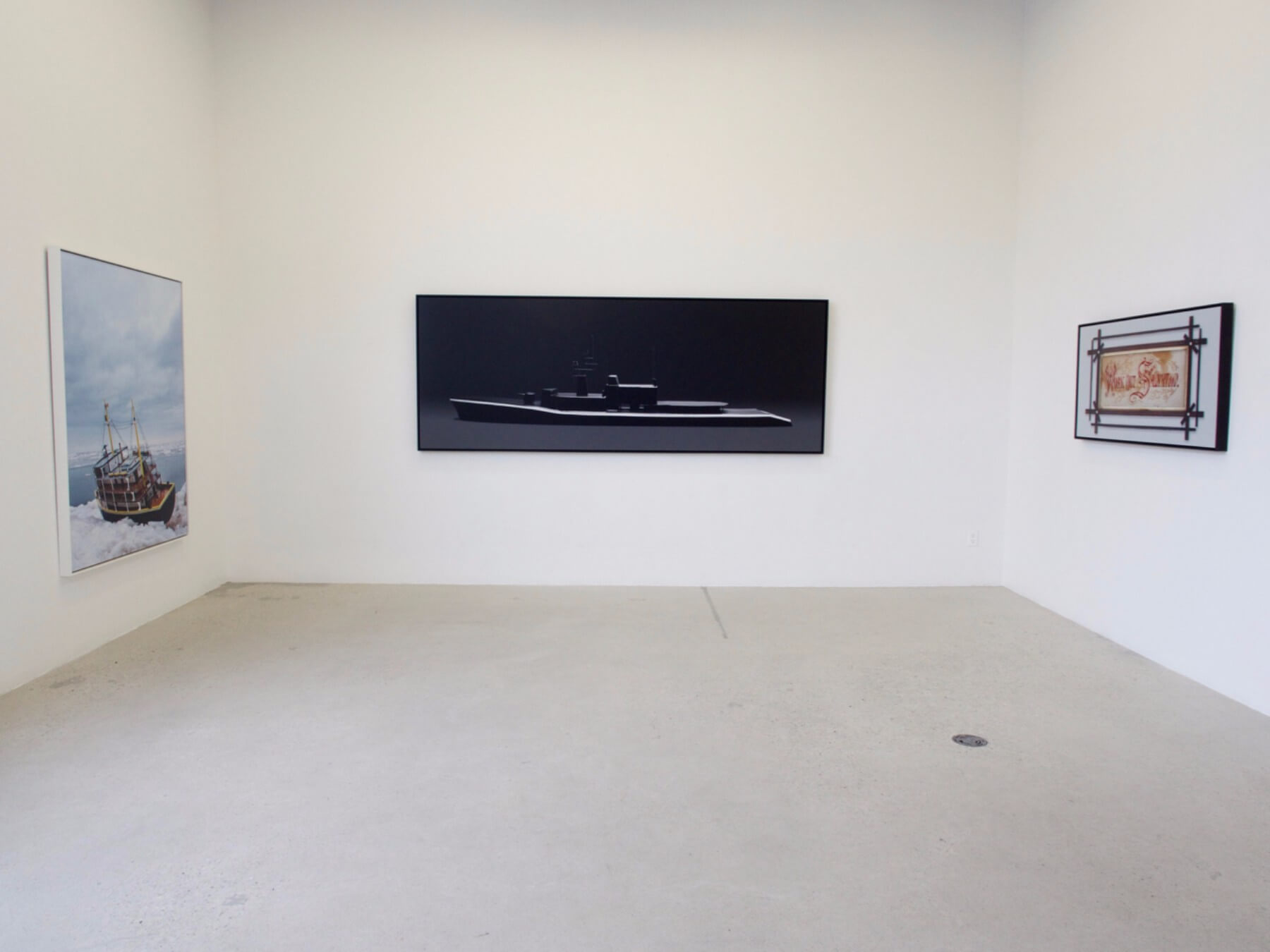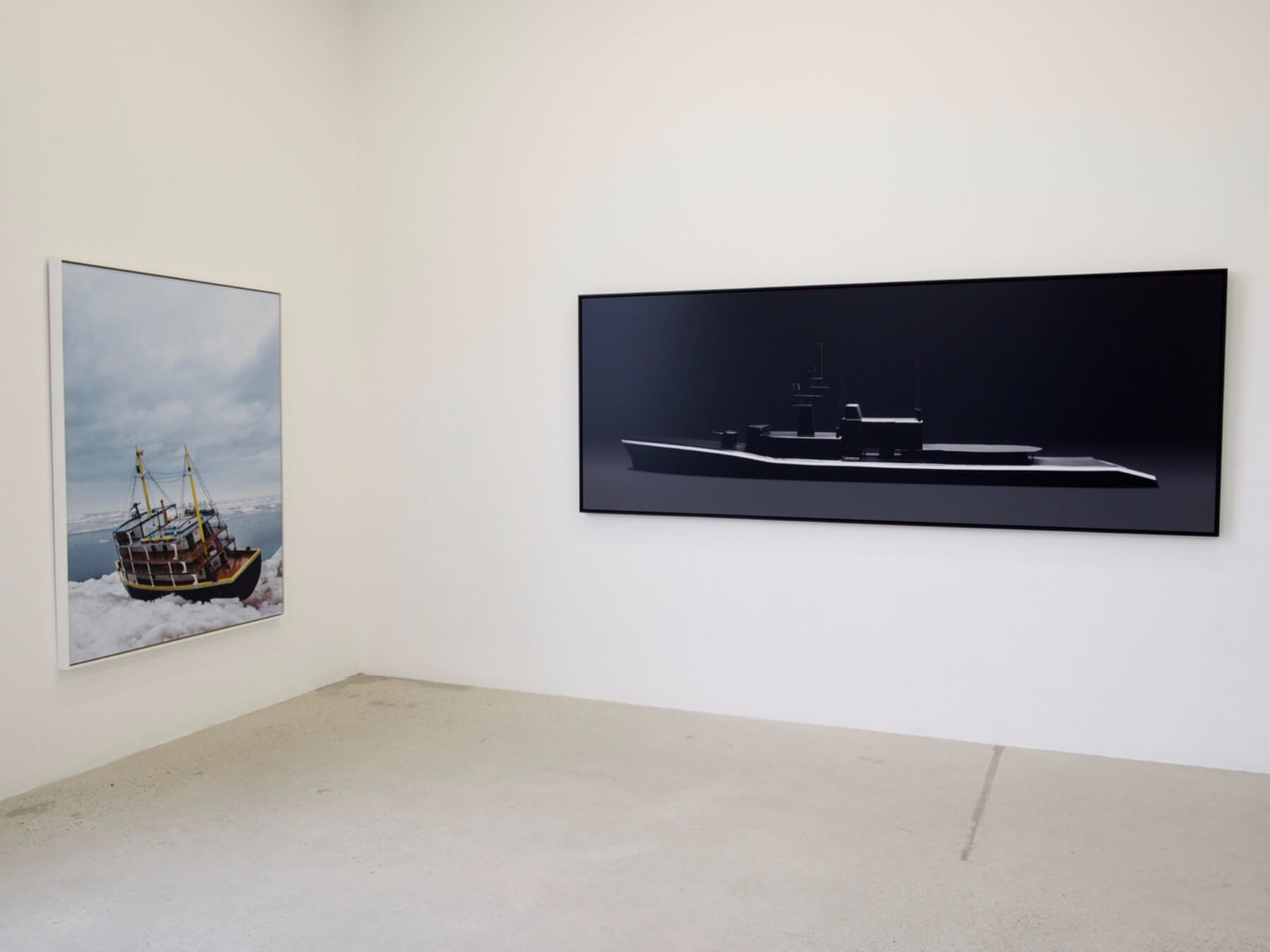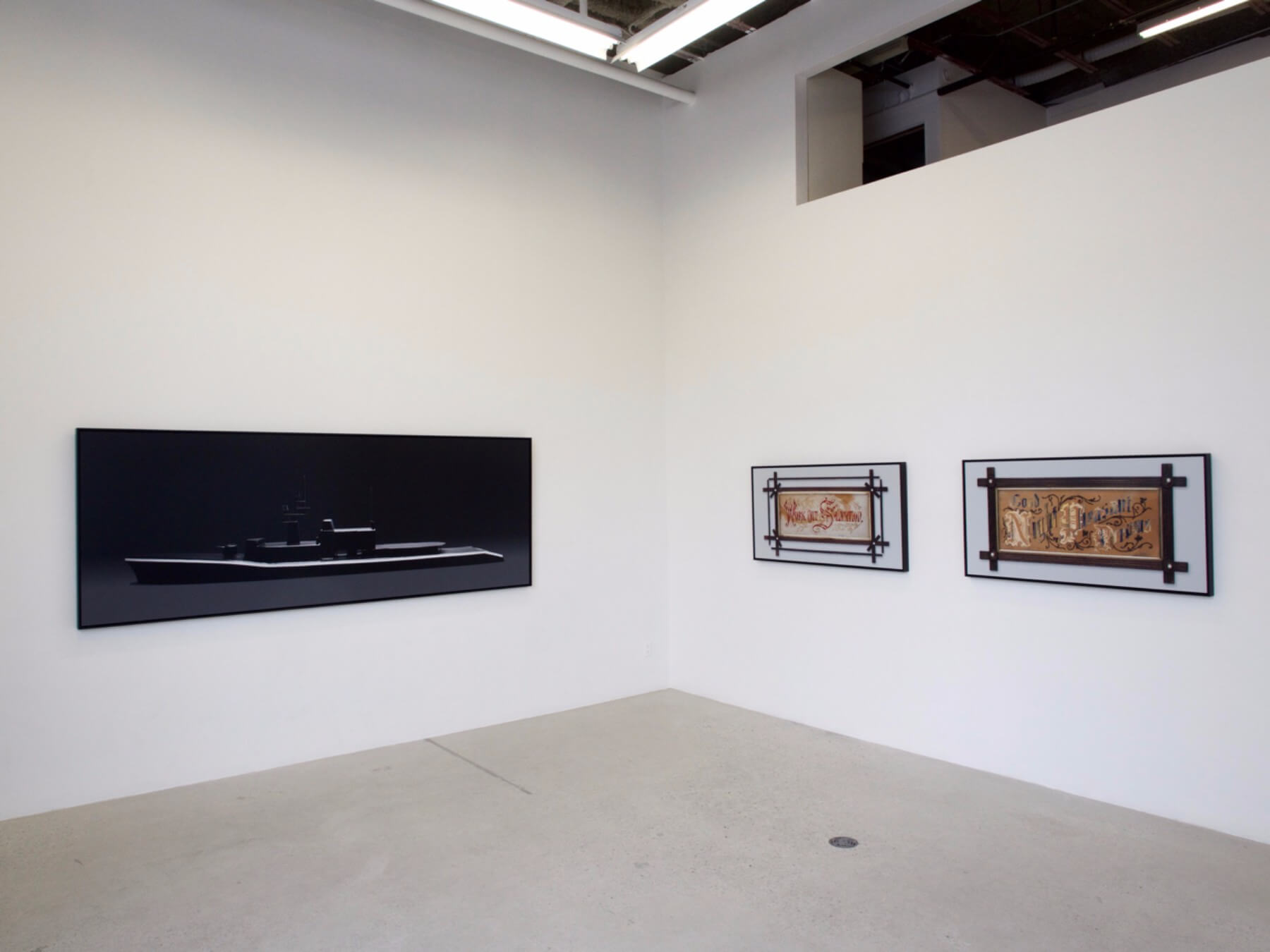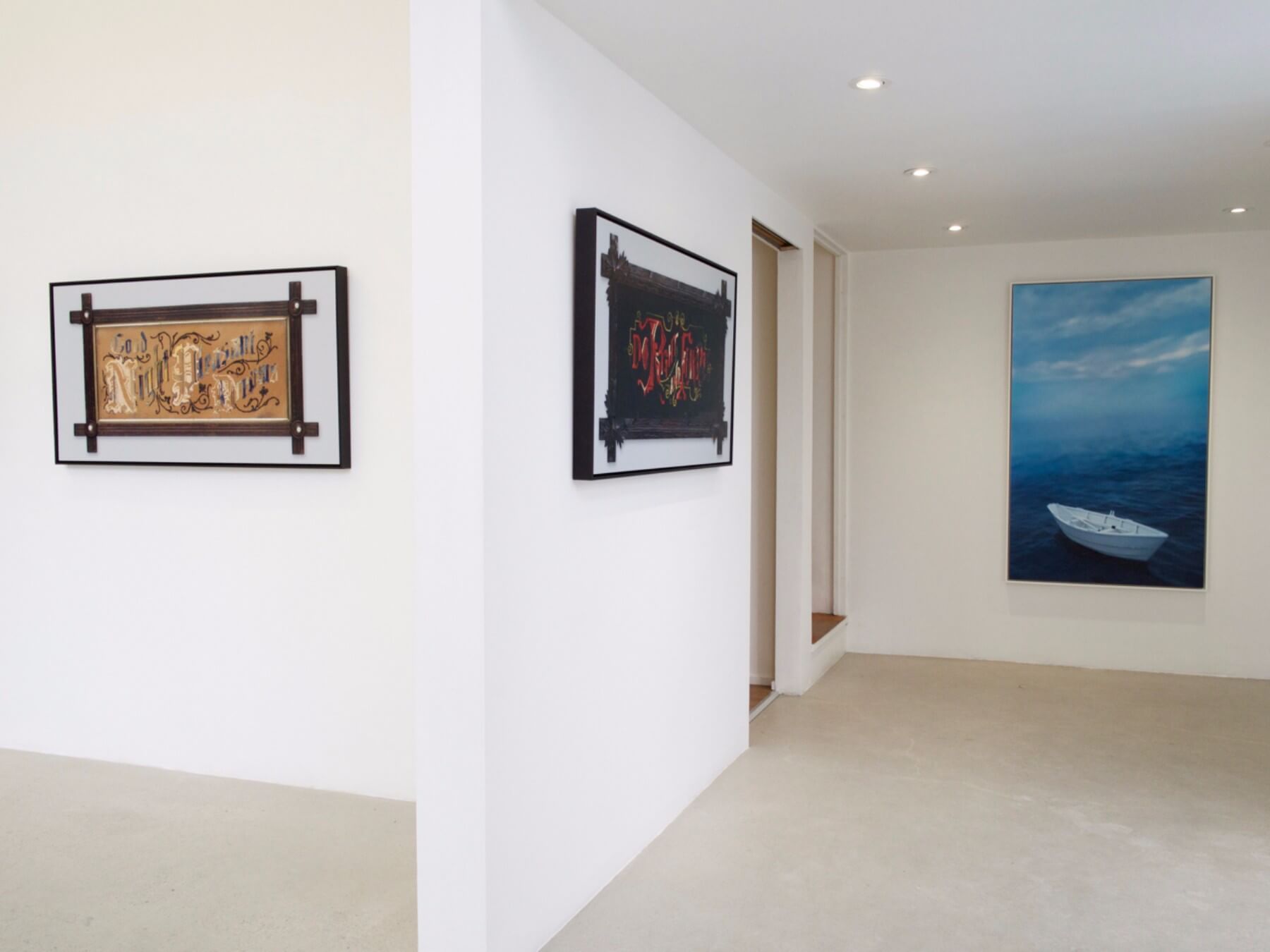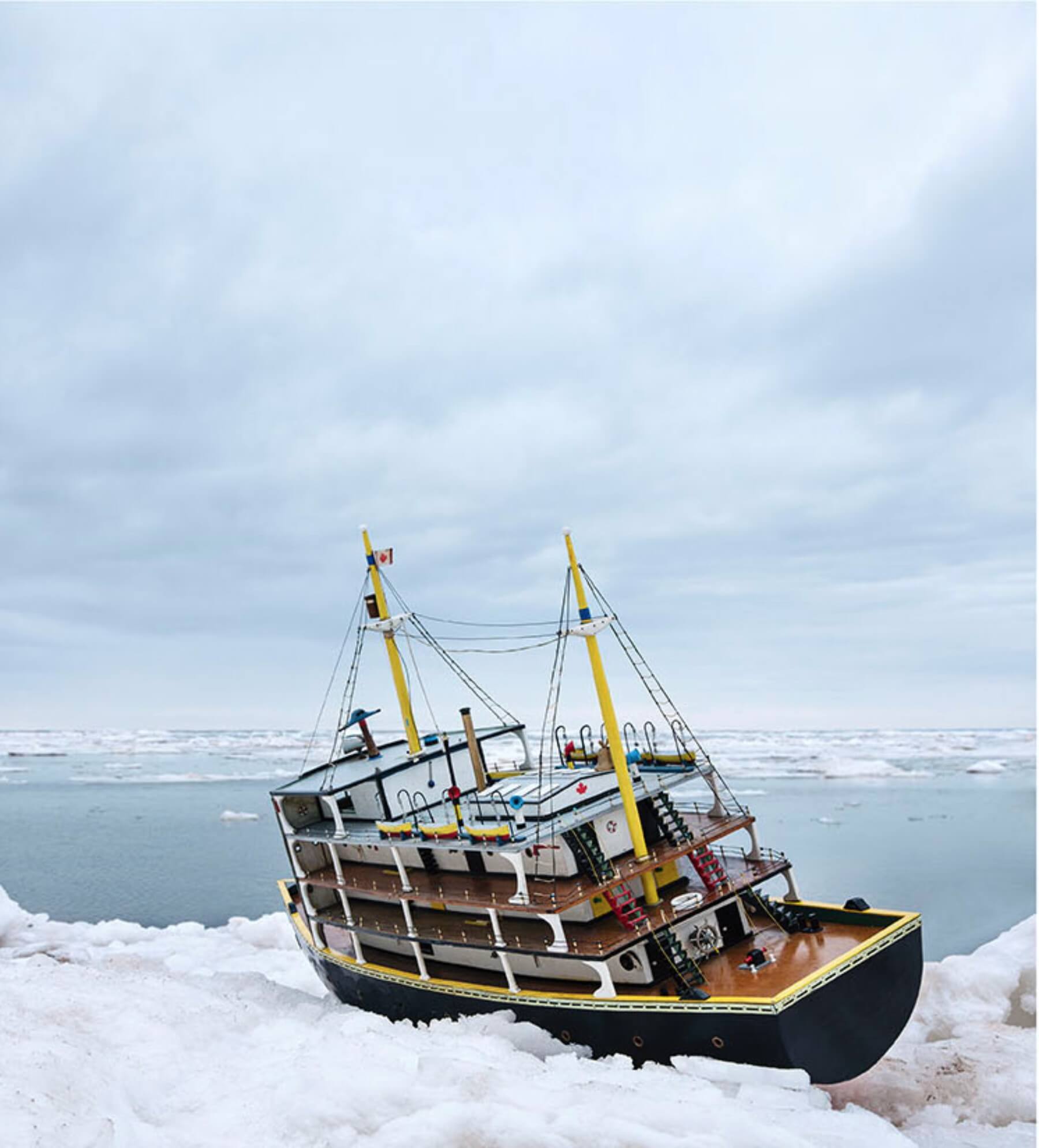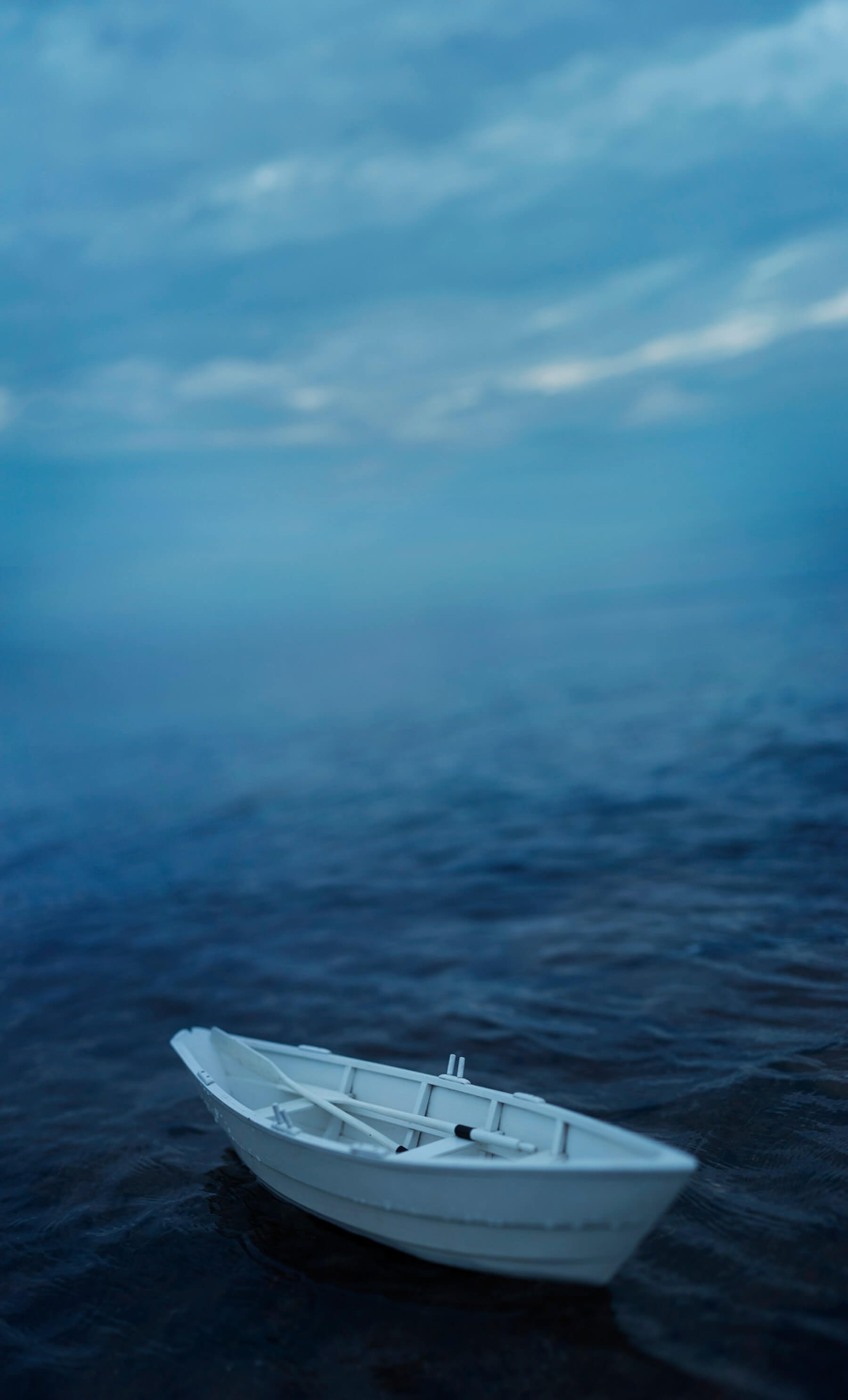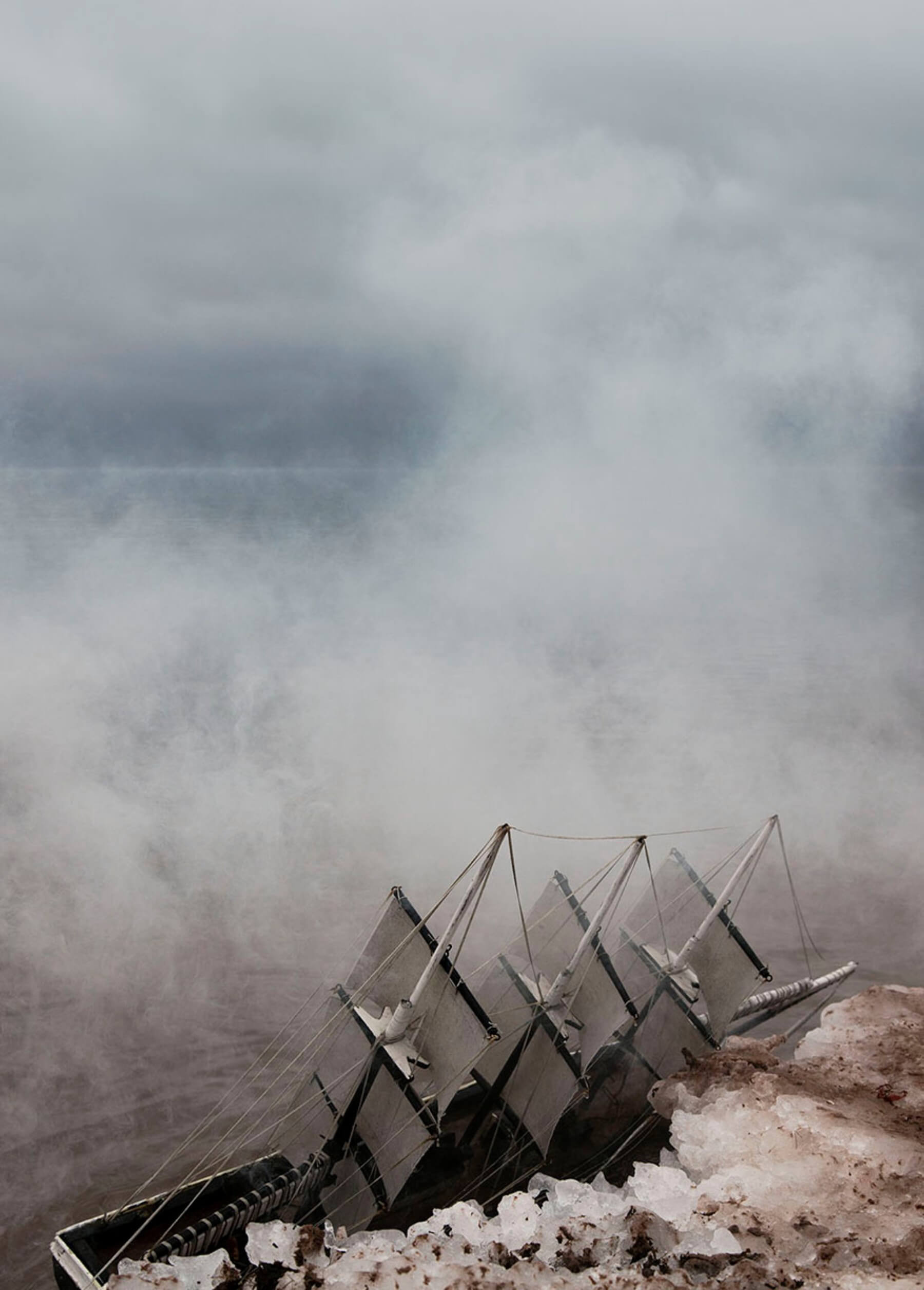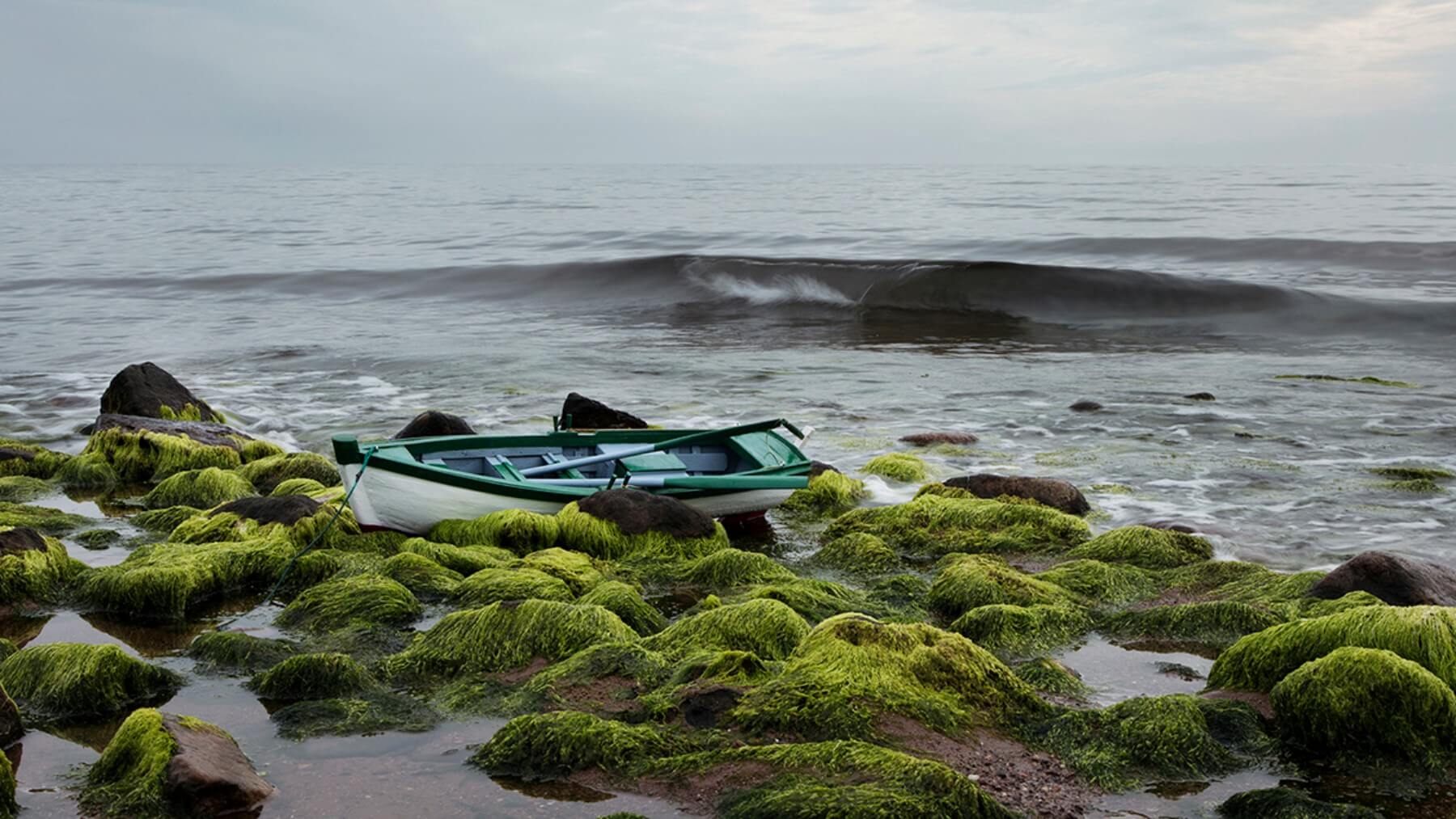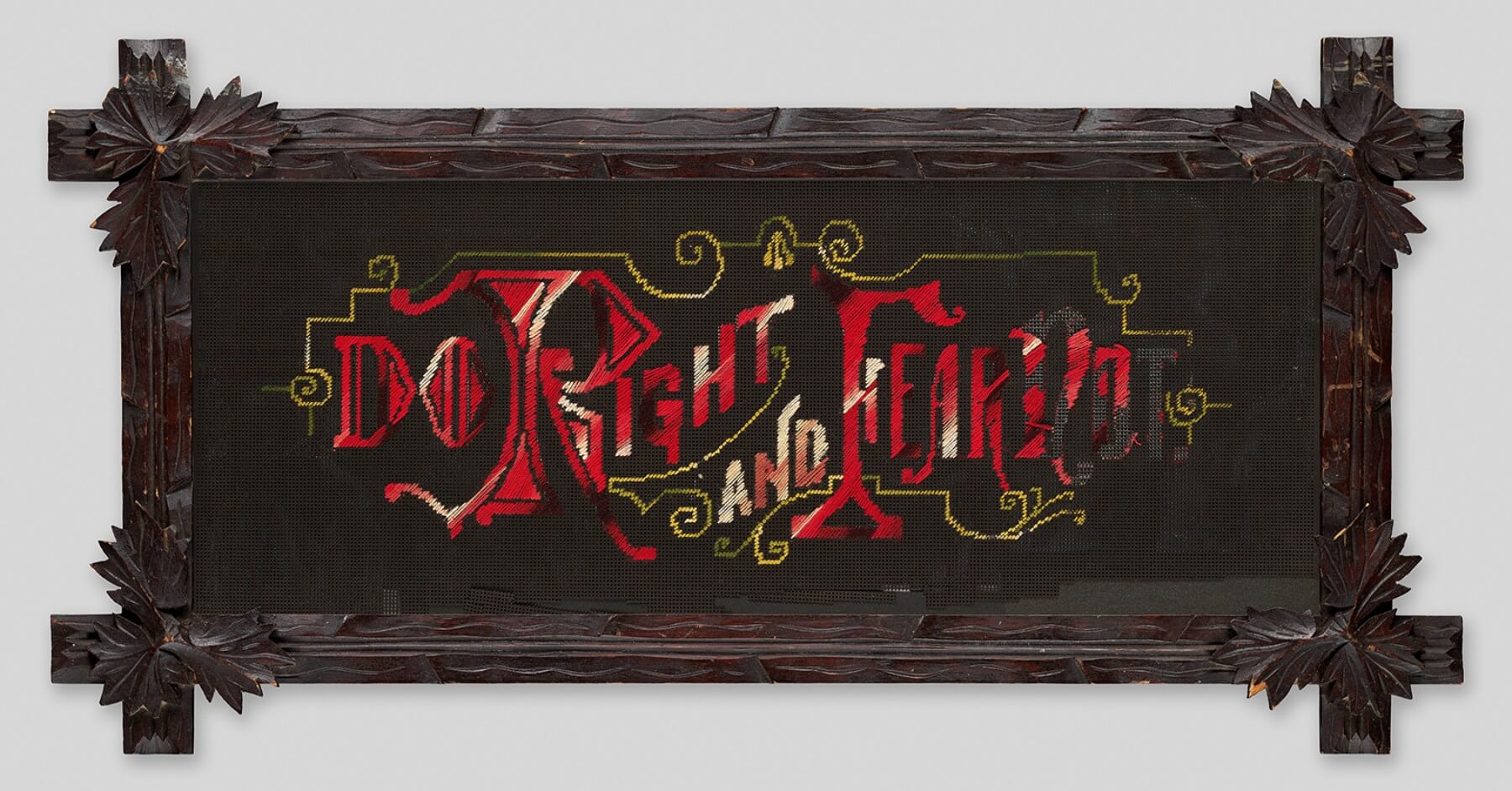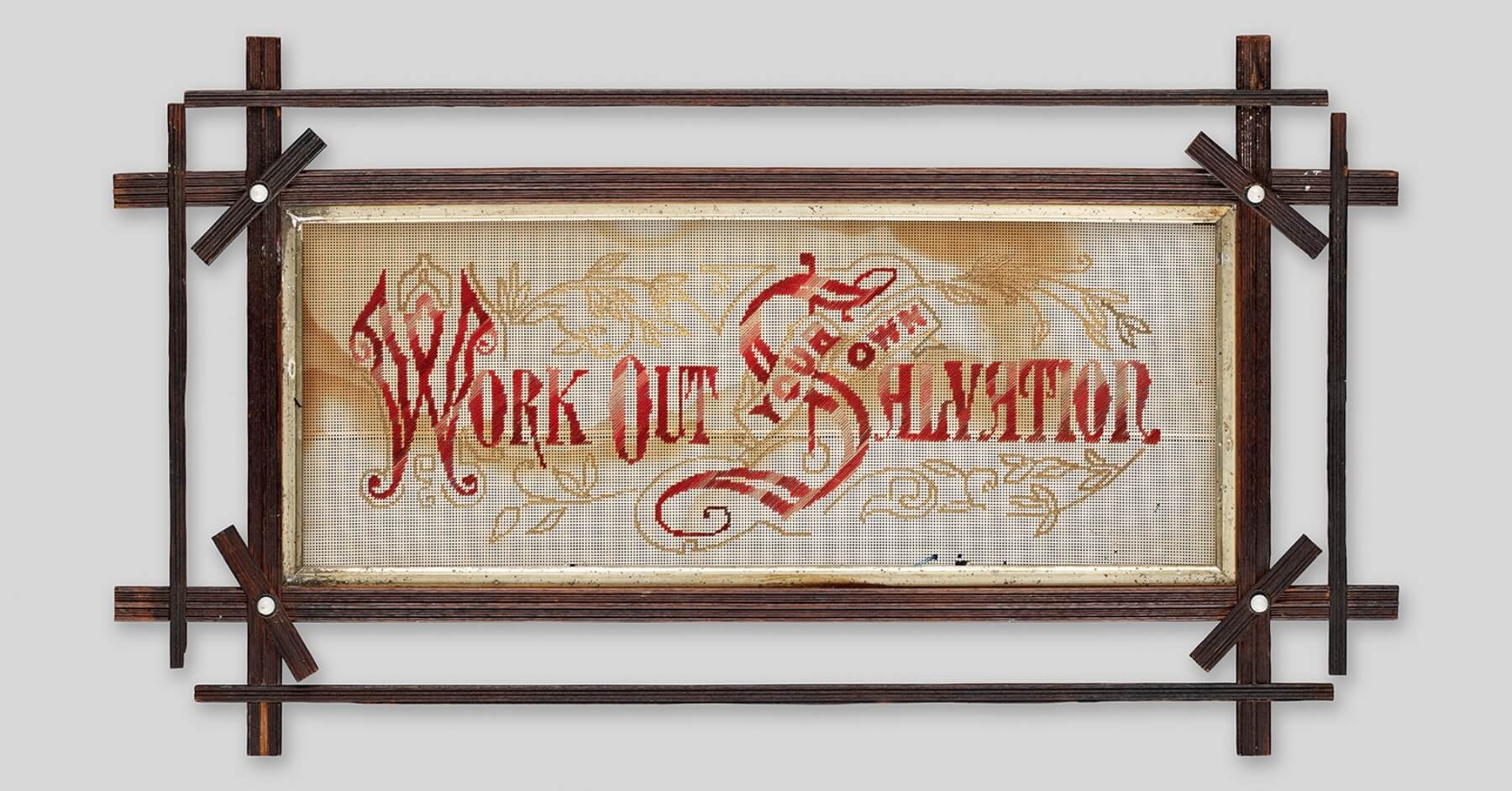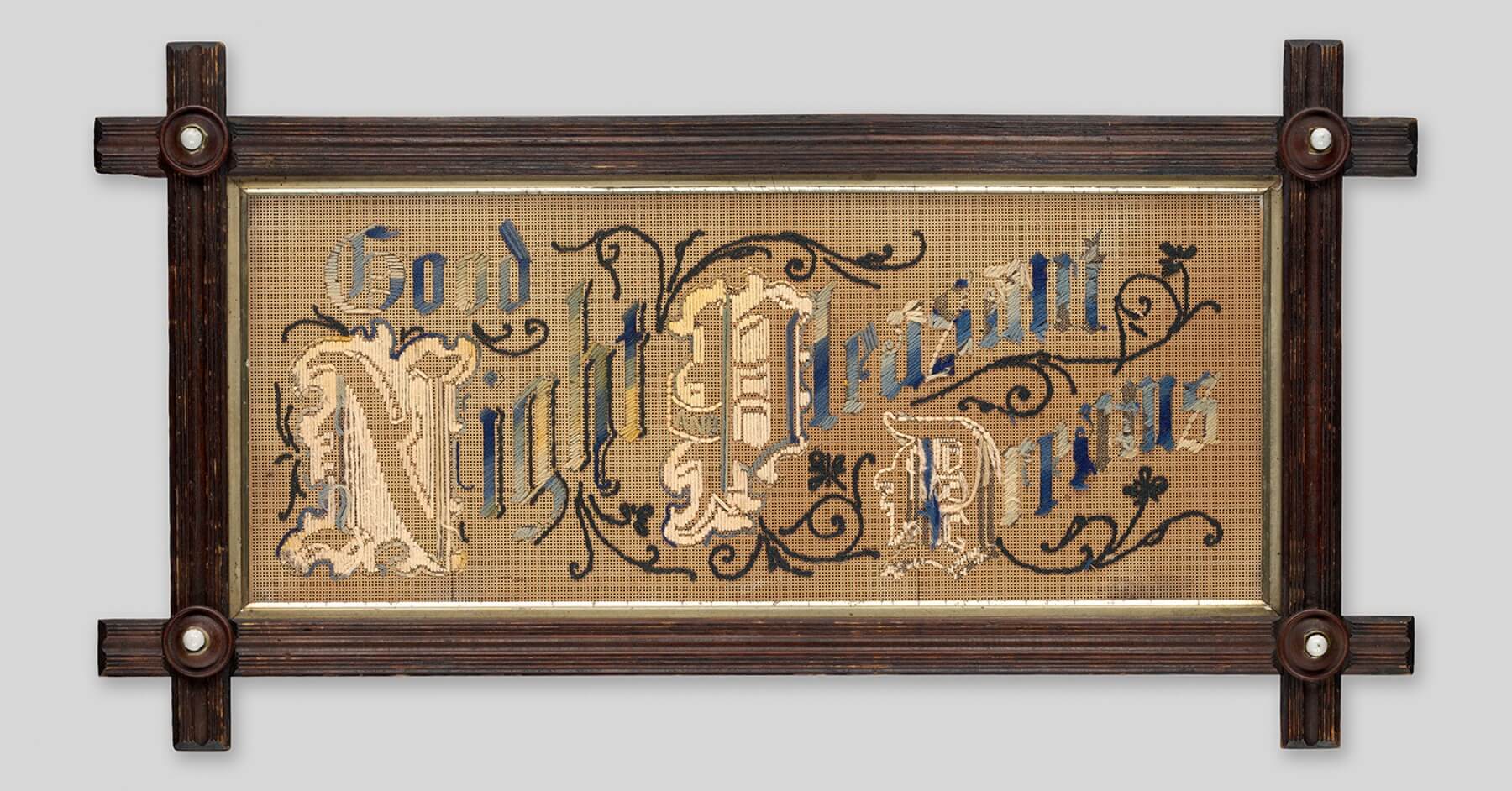 Press Release
For the past decade Katharine Knight has been best known for her remarkable documentary films. Annie Pootogook, Koop, Spring & Arnaud and Strange & Familiar: Architecture on Fogo Island, made in collaboration with Marcia Connolly and Site Media Inc., have each been particular explorations of people and place that intertwine the dependencies of space and artistic sensibility. In the midst of this award-winning film career, Knight has also continued a photo practice that continues her documentary interests and pays respectful homage to the folk artisans of the Maritimes where she spends part of the year. The images she produces are based on collected model boats and needlepoint motto embroideries that have their own histories and inspirations but which in Knight's photographic capture also become pictorial allegories in their own right. The overlapped frames on the mottos are reminders of crosses and they underscore the often religious sourcing of the phrases that, in their day, were truly phrases to live by. We read and see them now from a certain distance but with Knight it is never an ironic distance but rather a seeking fascination at the mindset that spun the intricate and laborious handwork. The model boats inevitably also find their way back to the water. They have left home and workshop behind to take their place in a natural world of weathered action yet the shifts in scale from miniaturized boat to open landscape carry a subtle dislocation that makes the setting unsettling with what seem newly unreliable horizons. The largest image, Ship Model, Artifact #1990.0029.001, is different in kind. It is an institutional model built for the National Research Centre in Ottawa to test airflow on Navy cruisers being modernized with helicopter landing decks. Photographed with a palette of blacks, greys and spectral white highlights, Knight's image is not so much a document as an invocation of surrounding dread, a dread that the mottos implicitly hold in abeyance with words.
Artist Statement
This exhibition juxtaposes photographs from two bodies of work, Boat and Caribou Mottos. Mixing current images of model boats with earlier work documenting 19th-century motto needlepoints links alternate realities of domestic safe havens and maritime risk. Newfoundlanders say the only boat that matters is a boat coming home. "Work out your own salvation." is one of the phrases from the Motto series and its Victorian mix of certitude, servitude resilience and peril feels fitting to our contemporary era.
My interest in model boats first percolated over a two-year period visiting my artist friend Colette Urban at her beloved home near Cornerbook, Newfoundland. I was there to make a film and in the process spent hours routing through Colette's collections of hats, records, things and art projects. Colette was determined to turn me into a collector. She sought out model boats on my behalf, finding them cheap at garage sales and more expensively at antique stores. You need these she said. The boats accumulated in Colette's barn until coming home to my rural retreat in Caribou Harbour, Nova Scotia in 2015, two years after Colette's untimely and unexpected death from cancer. My model collection, begun at Colette's urging, continued to expand and in 2016 morphed into a photographic project reconnecting model boats with local landscapes. A tribute to a beloved dory, a memory of passing ship, and a mash-up of several ferries rolled into one, the intentions and memories of their makers can be evoked photographically. Boat, takes model ships into the wild to create images of remembrance and imagination. The resulting photographs are documents that inform the viewer objectively, as historical objects, and subjectively, as images to contemplate, observe and interpret conceptually.
Boat and Caribou Mottos share lineages as handmade artifacts evidencing labour, passion and commitment. This exhibition highlights three mottos from a larger collection of 173 mottos amassed over a 40-year period by Caribou Harbour resident Jane Webster. With the support of the Webster family, I was able to document this unique collection in an online inventory. This exhibition excerpts singular mottos to focus on their text. The motto phrases transcend time. Each needlepoint and model boat originated with a single person in a specific place. Collectively they reflect creative entrepreneurship and resilience.
Katherine Knight is recognized for her evocative landscape-based photographic works and documentary films on art and culture. In 2000, Knight received the Duke and Duchess of York Prize from the Canada Council recognizing excellence in Photography. In 2006, she founded Site Media Inc., to create films on artists and creative process in relation to experiences of place. Site Media's award winning films have played worldwide through festivals, television broadcast and post-secondary distribution. In 2014, "Strange and Familiar: Architecture on Fogo Island," was awarded Best Canadian Documentary at FIFA, the International Festival of Films on Art. "Spring& Arnaud," a chronicle of art, love and mortality through the life and work of Spring Hurlbut and Arnuad Maggs, achieved a Top Ten Audience Award at HOT DOCS 2013. KOOP, portraying painter Wanda Koop's creative process was nominated for the Colin Low Award for Innovation in Canadian Documentary at DOXA 2011. Knight's photographic works are held in private, public and corporate collections including the Canadian Museum of Contemporary Photography, Museum London, Department of Foreign Affairs, Banff Centre for the Arts and The Canada Council Art Bank. Knight is a Professor of Visual Art at York University and previously served as Dean of Fine Arts at the Ontario College of Art and Design from 1996-2000.
Katherine Knight: Portraits and Collections—February 22 to June 25 at the Canadian Museum of Textiles—is a primary exhibition of the Scotiabank 2017 Contact Photography Festival.
About Richard Rhodes Dupont Projects
Launched in 2016 as part of the new Dupont St. gallery scene in Toronto, Richard Rhodes Dupont Projects was devoted to an exhibition program of contemporary Canadian art. Founding editor of C Magazine and editor of Canadian Art from 1996 through 2015, Richard Rhodes brought his expertise to exhibitions by emerging and established artists from across Canada. His informed critical eye launched and nurtured numerous careers in the Canadian art world over the past three decades. A photo diary of his continuing interests and work can be seen on Instagram at @c4rhodes. The gallery website will continue to be viewable at: www.dupontprojects.com.