Katie Bethune-Leamen 🍡
October 8 - October 29, 2016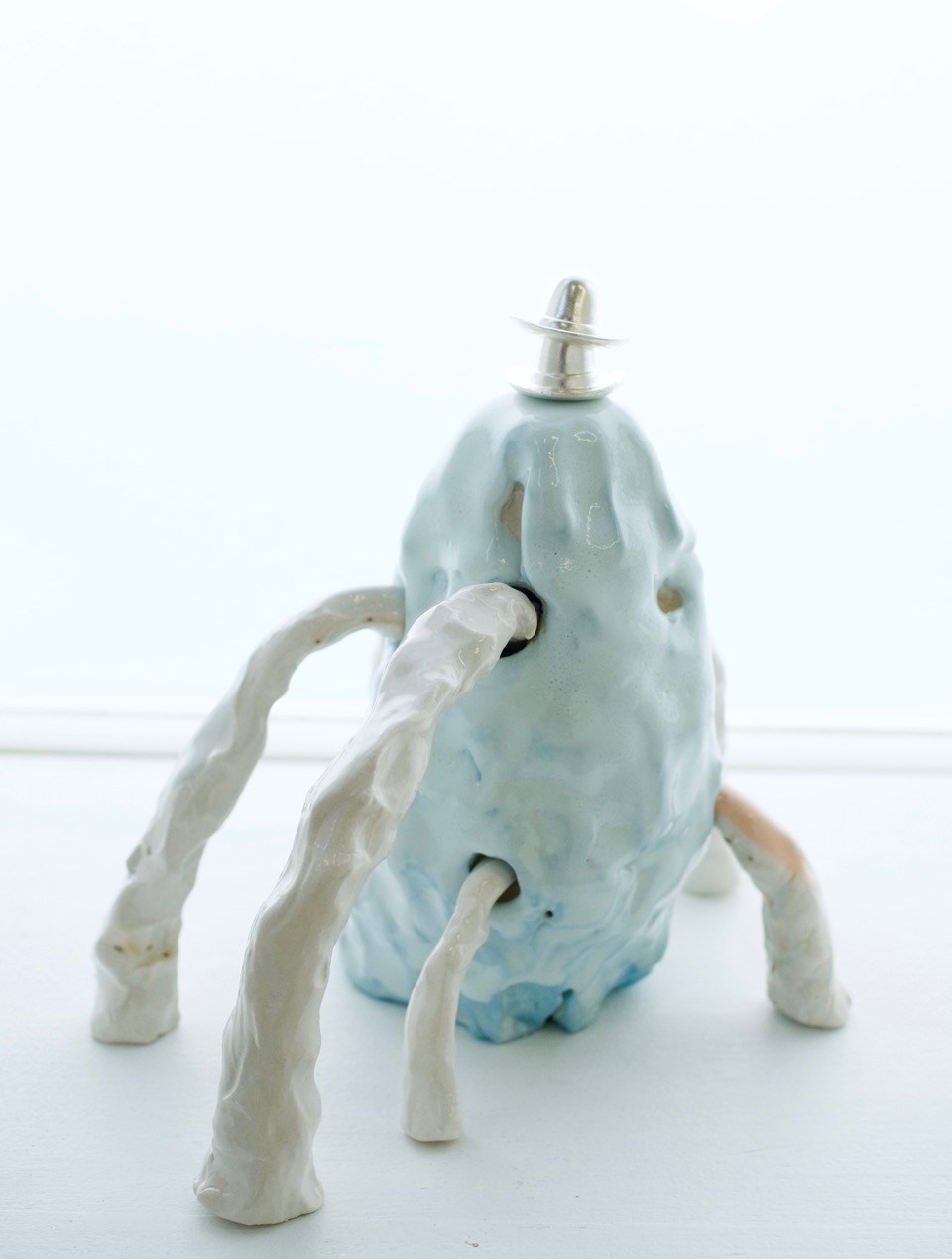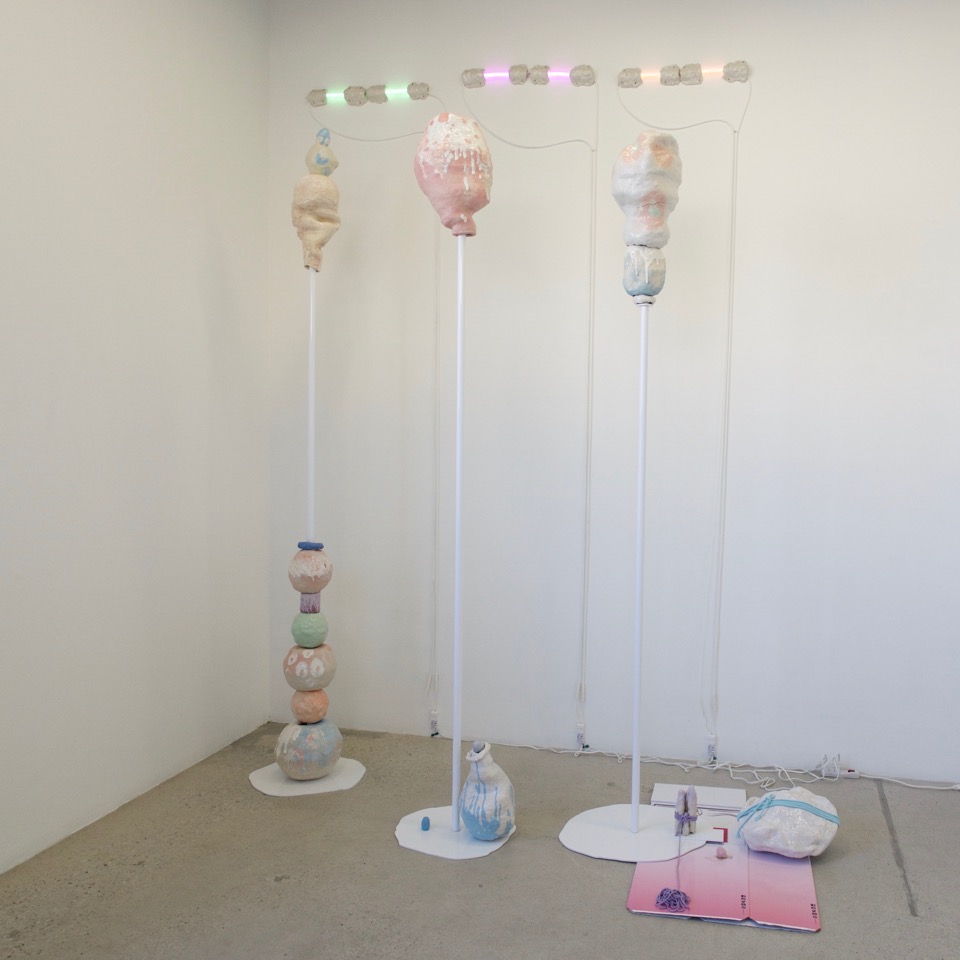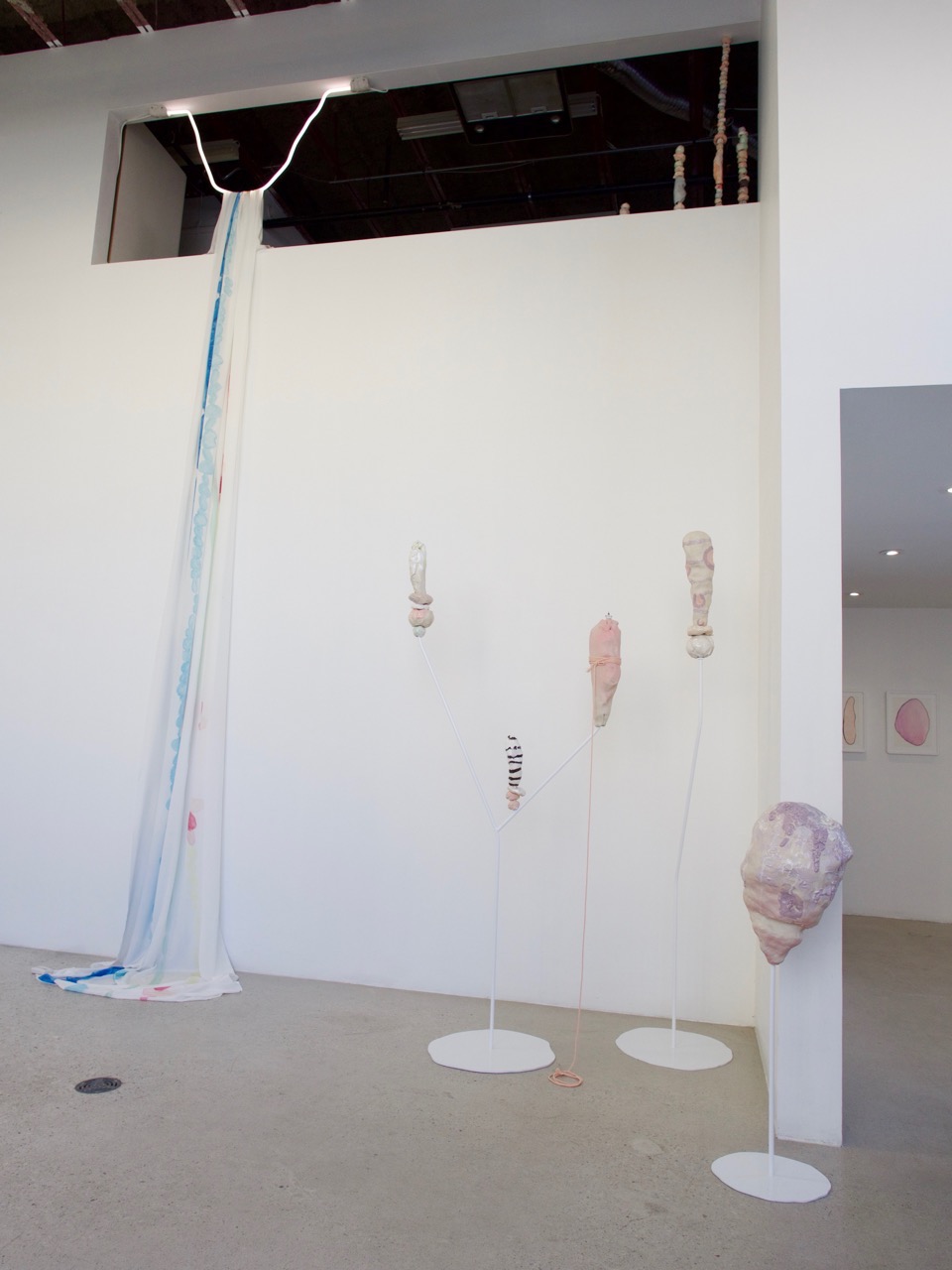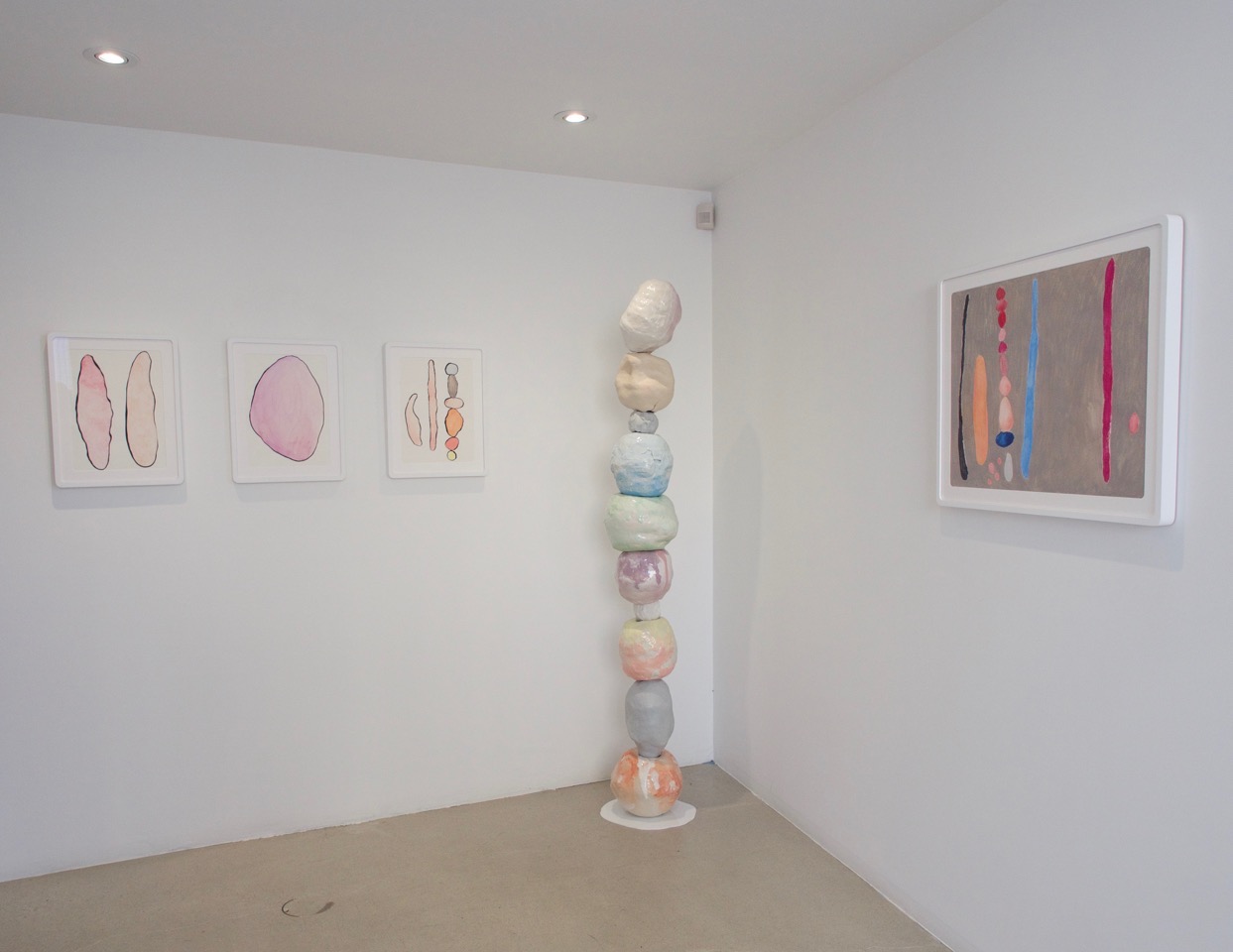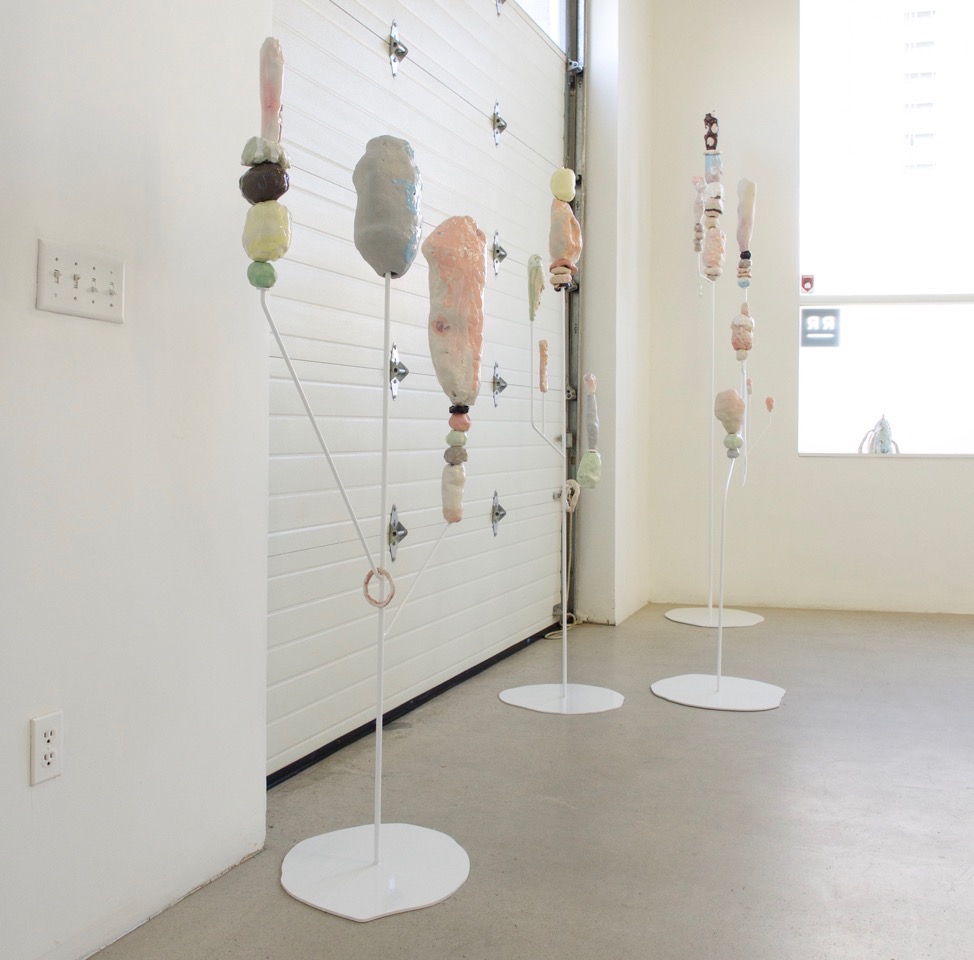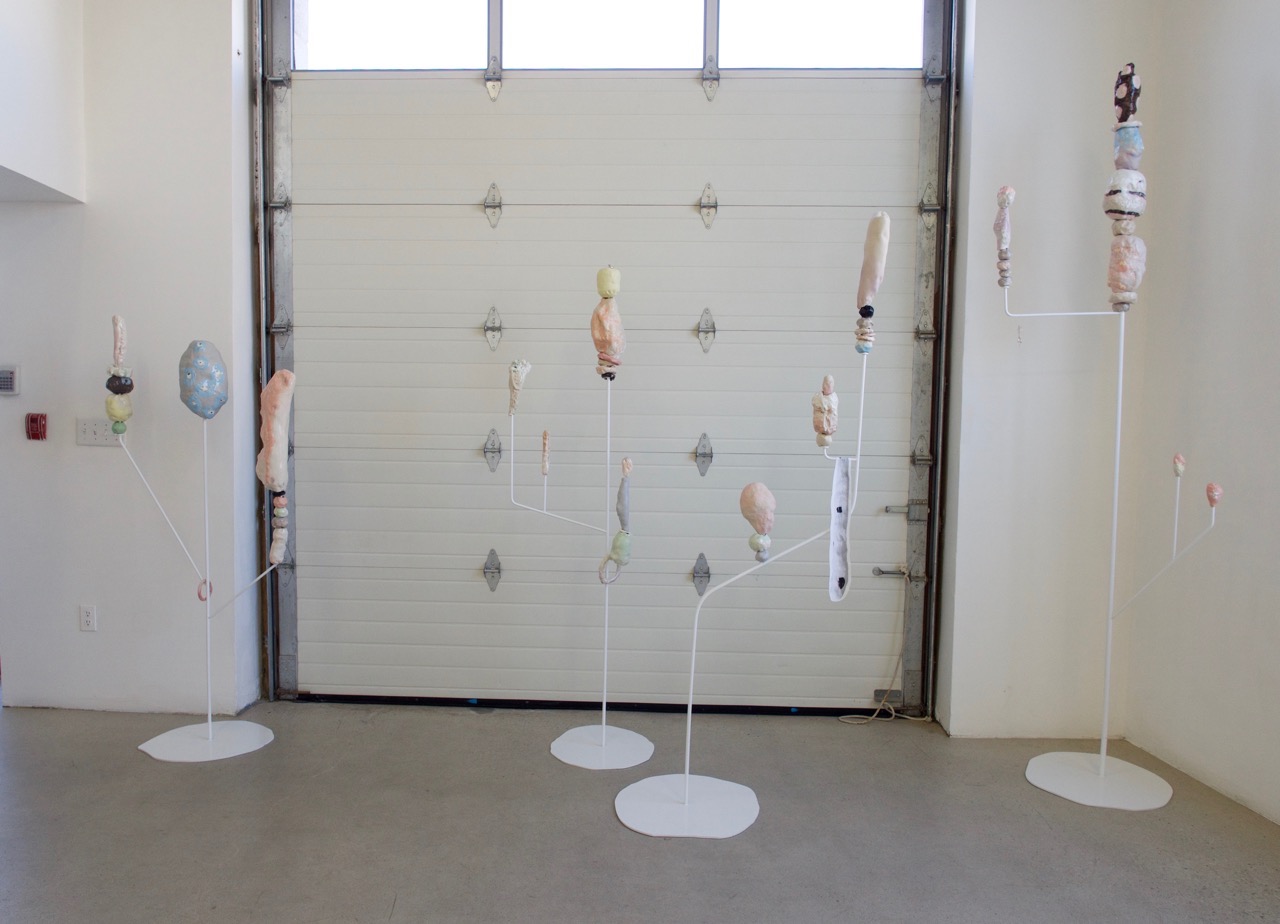 Press Release
The pictogram that stands in for Katie Bethune-Leamen's current exhibition title is an emoji image of a Japanese Dango mochi snack that shows pink, white and green rice dumplings on a brown wooden skewer. Taken as a kind of left-leaning gastronomic constructivism, the image fits with the organic, soft-form aesthetic that abounds in Bethune-Leamen's recent art. In it, objects straddle a line between the consumable and the ejectable, between something that is prized and something that might be defecated. Objecthood is a condition that runs both high and low.
The ambivalent tension between what is art and not-art took literal form in her 2015 exhibition "turn that brown upside down" in which a series of glazed, blob-like porcelain forms were lined up like museological artifacts on shelving units. With titles like, Brown Blob with Stick and Bangle, Baby Potato Rock and Farnese Hercules (ADC), the unlikely but glistening porcelain objects crossed notions of the commercial and the vegetal with the legacy of classical high art. Picasso's remarkable beach-figure paintings of the late 1920s are said by John Richardson to owe much to the improbable collisions of scale that the artist once saw in the Farnese Hercules during a Naples sojourn at the end of the First World War. But in Bethune-Leamen, the collisions are of the categorical and cultural kind. The Farnese is not a formal reference so much as a framing of the possibilities of how far we can let our imaginations run when an object resides within an art context. It sits on its shelf as a challenge to its lesser-provenanced companions and a challenge to its viewers to resolve the differences in a world where the authority of display can outrun content.
In her current exhibition, similar forms and concerns return. The new objects are incorporated with metal-stand sculptures, fabric works, neon lights and drawings. Viewers return to the challenge of value systems in flux while objects, like selves, remain gravitationally whole.
Artist Statement
Here are titles I was considering for this exhibition:
You put a bow on Bunny the cat to let her know she was important (or special, or powerful). It happens to rocks and other things too.
Frosty
Frosty Nug
hat on a hat
White Pussy (hair)
The presence of certain objects. Our relationships with objects. And making objects that come out of thinking about this idea of the presence of certain objects. Making them and arranging them and being with them and seeing them. How objects made can be ways of processing information (ideas, pictures, things) encountered in the world.
At the Bitossi ceramics factory in Montelupo Fiorentino, Ettorre Sottsass's totem stacks. These, and his investment in warm tones after his visits to India.
The lovingly detailed hues of historical Japanese shunga.
A formidable performance of the gruesome Kabuki ghost story Yotsuya Kaidan that featured phosphorescent flame balls.
And a rather difficult winter.
And much of a residency production budget spent on very nice paper and a whole range of watercolour pencil crayons, pastels and whatnot.
A piece of garbage bokashi cardboard found in a trash can in Paris and brought home.
And always fucking tiny hats, like a teensy plague. Fungus on a mushroom (Hypomyces lactifluorum.) Hat on a hat.
Katie Bethune-Leamen works in sculpture and installation, and is currently based in Toronto. Recent solo exhibitions include: turn that brown upside down (Modern Fuel, Kingston), YOU WIN! (february) (8-11, Toronto), Snog Marry Avoid (Eastern Edge, St. John's NL) the commissioned project Blobs for Lawren Harris's Glaciers, Icebergs, and Unknown Things (Art Gallery of Ontario) and participation in group exhibitions at Parisian Laundry (Montreal), Erin Stump Projects (Toronto), and the Art Gallery of Nova Scotia. Recent artist residencies include the Canada Council for the Arts International Residency in Paris, the Darling Foundry (Montreal), and Fogo Island Arts, SIM (Reykjavik, IS) and one upcoming with NSCAD (Halifax). She is the recipient of numerous Toronto Arts Council, Ontario Arts Council, and Canada Council for the Arts grants, and a 2015 2-year Chalmers Fellowship Grant to research sculptural abstraction through travel in Japan, Germany, Italy & the USA. Her work can be seen at www.katiebethuneleamen.com
The Titles
Katie Bethune-Leamen's language is as pliable as raw, unfired porcelain. In the titles of her works words reach into areas of personal memory, art history, logistics and the joy of vernacular speech.
Below is a running list of the titles from the exhibition:
Janus: Anti evil eye Gap Greeter and Admiral Ackbar, fancy times & bangle
March 14, 2014—look at those li'l guys, and so sparse, although yes, bangle, plus tiny silver hat
So many good things—pink & white frosty nug, those 1930s German airbrushed ceramics, stack stack stack whatnot
Alarmingly shrivelled, with stack, and li'l blob and ring one thing with eyes and then a giant puffball Eastern European glazed donut thing, purple blue eyeballs frosty nug, thing thing with Soul gripping crappy plastic children's charms purchased at greater cost than was felt to be acceptable, cast in sterling silver: SHINY!!! being a shorthand for a feeling
Someone has their party hat on hat on (yes, Miyazaki, right?!)
Doublestuf stack—all the feelings, eyes eyes eyes, peacock, purple frosty nug, Joan Crawford shoulder pads 80s bathroom, blue purple frosty nug, stackity ring stack
Pull eyebrow I (phosphorescent green) with figure—stacked & topped (just ick, tangerine, eyeballs German 1930s airbrush ceramics, phosphorescent fireballs, purple frosty nug, yes!!!, ring)
Pull eyebrow II (fuschia) with figure—stomach balloon hand lotion with floor inverted blob, blob topper, li'l guy & bangle
Pull eyebrow III (salmon pink)—eyeball blob, frosty nug blue
Bound Manet white asparagus bundle, denoted rock blob and uncomfortable pink nubbin on Bokashi Island
Foss goosh (for Bryndís Viglunsdottir) with some bars of Dr. Bronner's soap (lavender scent)—ALL-ONE!— for good measure
Mmm hmm like your dad says it, and getting ice cream sandwiches. Plus a wizard. and Fudge, I dunno—peacock eyeball, those German airbrushed ceramics from the 1930s, ring, li'l blob
Chrysalis eyeballs body lotion when improperly mixed with water
Bb stack snacks
Bb stack snacks (with Burnt toast Hollandaise sauce that comes premade in a bucket)
Open—blobs pink dots, fuchsia, turquoise, indigo, long pinky (drawing sculptures when you cannot make sculptures becomes drawing)—totally I think I got this framed upside down?!
water soluble pencil crayon and pastel on Arches
Open—blobs stack with cherry, greige, black, turquoise, yellow beige, phosphorescent green—because Yotsuya Koidan—(drawing sculptures when you cannot make sculptures becomes drawing)
Outlined—double blobs mouth blown glaze pinky red and pale orangey (drawing sculptures when you cannot make sculptures becomes drawing)
Outlined—purple bokashi blob (drawing sculptures when you cannot make sculptures becomes drawing
Outlined—pinky hand tool, long pinky, stack with yellow, bright salmon, orange, dunno, greige, grey (drawing sculptures when you cannot make sculptures becomes drawing
Stack—tangerine grey, and whatnot, phosphorescent fireball (Yotsuya Koidan production!), blue frosty nug, grey, slight blush, purple blush (Sottsass prototypes at the Bitossi ceramics factory)
Greige background with black longy, apricot long blob, stack with multi pinks and indigo, pink dots, grey guy, long blue, nothing, fuchsia long…pink small blob (drawing sculptures when you cannot make sculptures becomes drawing
Pink fade, burgundy purple bangle, stretch glazed pinkie donut wall combo.
Alarming artificial peach swirl ice cream turkey drumstick with baby blue ring.
Bird pinkie fade taco.
mouth blown underglaze, porcelain, powder coated steel, some unfortunate screw choices
About Richard Rhodes Dupont Projects
Launched in 2016 as part of the new Dupont St. gallery scene in Toronto, Richard Rhodes Dupont Projects was devoted to an exhibition program of contemporary Canadian art. Founding editor of C Magazine and editor of Canadian Art from 1996 through 2015, Richard Rhodes brought his expertise to exhibitions by emerging and established artists from across Canada. His informed critical eye launched and nurtured numerous careers in the Canadian art world over the past three decades. A photo diary of his continuing interests and work can be seen on Instagram at @c4rhodes. The gallery website will continue to be viewable at: www.dupontprojects.com.